Support Haiti – Order a T-Shirt Today!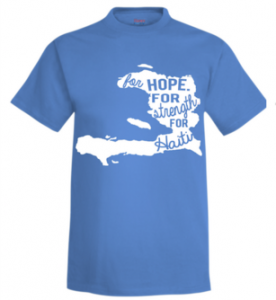 With less than one month remaining in our Haiti Holidays donation drive, we're happy to announce that there's a new way to give back. In order to help us spread the word and bring joy to the orphans of Haiti, a local sorority at Texas State University has taken it upon themselves to design a T-Shirt to contribute to our fundraising efforts. For each t-shirt that is purchased, 50% of the proceeds will be donated to our Haiti Holidays donation drive. Our staff will bring all of the donations that we receive to Haiti this February to help support the orphanages that CAN is currently partnered with!
Each T-shirt costs $13.50, and can be purchased using the link below through February 5, 2016. They are available in three different colors: blue, pink, and light grey.
If your family is looking for another way to help, please keep in mind that we are also collecting items that each of the orphanages that we're partnered with have specifically requested. For a full list of items that they are in need of, visit our Haiti Holidays page at the link below: