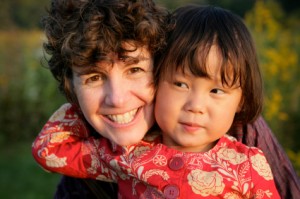 At Children of All Nations and Great Wall China Adoption, we believe that all children have the right to live in a loving permanent family. While each country sets their own requirements for prospective adoptive parents, we are committed to developing adoption programs that are inclusive of a wide-range of qualified potential parents.
Children of All Nations has worked to establish numerous successful adoption programs that support adoption by single parents.
Regardless of your marriage status, it is important to build a healthy support group to assist you throughout your adoption journey. We have created this section of our website to serve as a resource for single parents interested in adoption. We plan to continue to add to this page in order to offer the best resources and assistance possible to single prospective adoptive parents. Feel free to contact us for further information on our current adoption programs.
Preparing to Adopt as a Single Parent
In the past few years, adoption by single parents has increased dramatically. It is estimated that approximately 25 percent of special needs adoption and 5 percent of total adoptions are attributed to single parents. Though single adoptive parents are more likely to be women, single men are forming a growing percentage of those choosing to adopt.
We know the process of adopting, especially as a single parent, can feel daunting but we're here to help.
Speak with Other Single Parents. The best thing you can do to begin preparing for your adoption journey is to speak with other single parents. First-hand knowledge of the experience will be crucial to preparing for your adoption. You may contact us for references of single parents who have completed their adoption through CAN.
Crack Open a Book. As the number of single parents grows, so do the resources available to them. Check out our resources and suggested reading.
Arrange for Care of the Child. It is important to determine who will provide care for your child while you are working. It is also important to determine who would care for your child in the event that you became ill or pass away unexpectedly. You will address these issues with your social worker during the required home study for adoption.
Give us a Call! Our adoption consultants are available to help answer questions and provide support during your adoption process.
Single Parent Resources
Books/Videos
Raising a Transracial child
Adoption in the Classroom
Issues in Adoption
Articles
Adoptive Families, the online adoption and parenting guide, has provided trusted adoption information and inspiration to families for over 30 years.
Websites
Support and Education