Reflections on the Philippines Winter Hosting Program
The Philippines hosting program was beyond what CAN expected. Our families had fun, the kiddos had an even better time, and we are seeing that many of these children will become official members of a lot of these families very soon.
We wanted to share some of the testimonies we have received from our families. We hope that more families will be encouraged to host kiddos in preparation for adoption. We are looking to develop many more hosting programs in the future and we need wonderful families like these to step up and help out.
"We hosted two boys, 9 and 15. We have four of our own, 7, 5, 2, and 6 months. People thought we were crazy, maybe, but we knew this was something we should do. Over the four short weeks we experienced more joy and happiness than any of you thought was possible. Two quiet, shy, strangers came in December and two of my own boys had to leave in January. This was an amazing, heart wrenching, great, horrible, crazy experience and we would do it again in a heart beat!!! Even my two year old kept saying he was going to go on the airplane too and go live in the Philippines." -Smith Family
"An NHFC email arrived,but I did not read one until mid-November two days before the due date of application has. I called to be sure all children were spoken for.(Our lives were just too crazy.right?? We are currently residing in two states.) Alexandria, informs me that another family had to back out and if she does not find a back up by 7 pm, it was approximately 11 am at the time, this brother and sister would not get to come to the US for Christmas.
I had only briefly mentioned the program to my husband having thought "now is not the time".
I called him,with the request of bringing two children into our home for "Christmas Hosting". This would be a sibling group 14 year old male and an 11 year old female added to the already raging hormones of our 15,14,12, & 9 year old children (The 6 year old is still just loving life!!) this was no small request, then add on the financial commitment!My godly husband, told me to give him 1/2 hour to pray. He called me back, and said "Char, we can do this for these kids. It's only a few weeks. God, has blessed us financially, and it is not for our lives to improve, but to help improve the lives of others." (I do not think I have ever loved this man more!!!)I could go on and on; God brought us the two children who fit our family perfectly. We began adoption paperwork before their arrival due to the Holy Spirit prompting. When we met the kids we had immediate confirmation in our hearts and souls. The remarkable thing is all five of our biological children finally found something to agree on,they want these kids to be their siblings. John and Jill seem to feel the same. John said, "We were told by ICAB,we were going to the US to 'Find a Better Family' and we did." Melt your heart!!!
We are asking God for BIG Miracles…He is a BIG GOD. He's got this covered!!"
– McAfoose Family
"Dan and I feel like this hosting program was a wonderful way to include two children into our family who didn't already have one. They are very special children and fun to be around. Their smiles would light up a room and their giggles made every one else laugh with them. Even though they were only here for a month, they had already started making connections with us and our family, and everyone included them into our family too. We were so blessed to have the opportunity to get to know them and to enjoy the Christmas holiday with them. This was a highlight for them too. The time went so quickly we wish they could have stayed longer, and we are hoping to see them again someday soon." – Coll Family
It's heart warming to hear the wonderful experiences these families had, I can only imagine what the kiddos are telling their friends at the orphanage. It is incredible to think the difference a little child can make, the Haase family said it best, "I was not prepared to fall in love."
(What a precious moment caught on camera)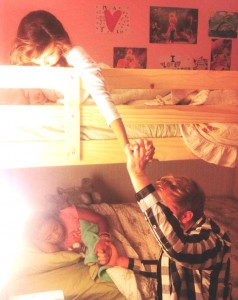 Due to various circumstances a few of these children do not have a forever family at this time. If your family is interested in learning more about them please contact Lacee@childrenofallnations.com to view their files.