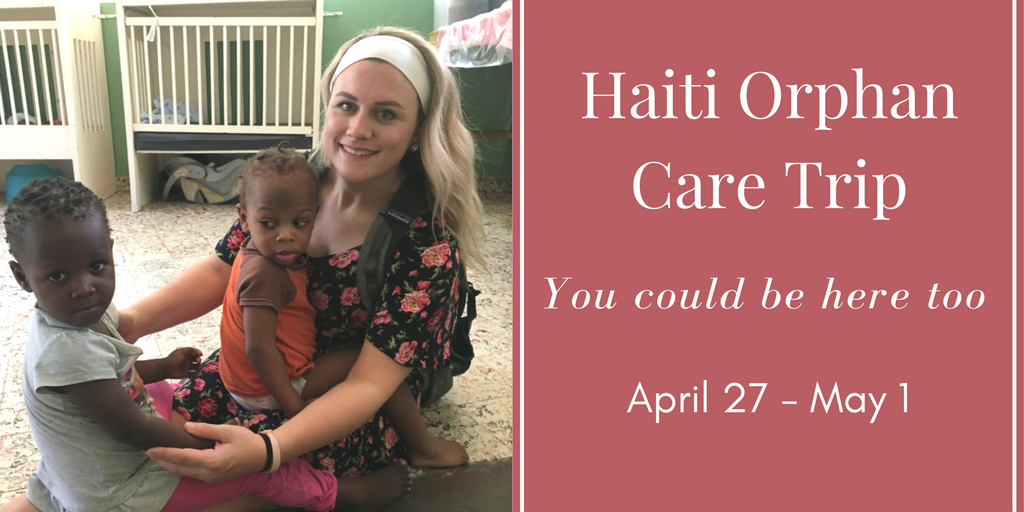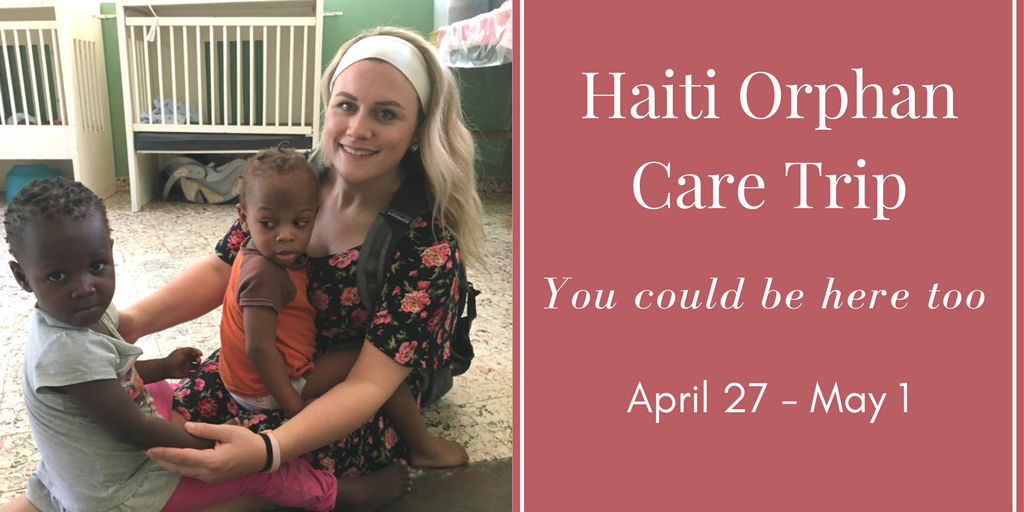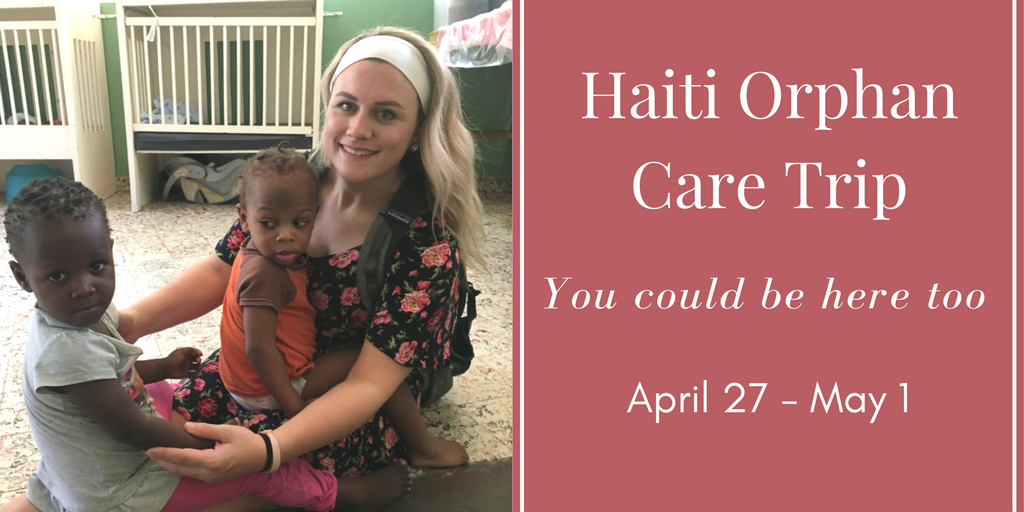 Hilary, our Orphan Care Team Leader, found her calling helping the children in Haiti. She shares her memories from the previous Haiti Orphan Care Trip below.
Traveling to Haiti has quickly become a part of me. The excitement that fills me as I prepare to travel and the anticipation of when I will be back have become very familiar feelings. This past trip was different though…this trip provoked emotions within me that I have never felt before.
The countdown began. I was one week out from traveling to my favorite place in the world to be with the most amazing children and to see individuals again that I now call my friends. The WhatsApp messages were rolling in, donations were packed and goals were set; I was as ready as I could possibly be. A few days before leaving I had a conference call with the group joining me in Haiti and that is when everything got really real. I was going to lead these people in a foreign country…I was going to show them around, be their point of contact and coordinate our daily activities. WOAH. I started reflecting as the departure day got closer, "What was I thinking??" Prior to leaving I was filled with anxiety and for those of you that think you know me well you might think that I am an extrovert. I love talking with families on the phone, sharing stories and really getting to know everyone. However, news alert, I am not an extrovert at all. But, I looked at this opportunity as a growing experience; A chance to raise awareness, connect with new people over a cause and country that I care so much about, and a chance to impact those around me.
With all of these thoughts and emotions swimming through my head I boarded the plane in Austin, TX with a final destination of Port Au Prince, Haiti.
The plane began descending and as I peered out the window I felt at ease. I was back. I exited the airport and hopped in the back of the truck. I felt the hot sun beaming on my face as we drove through town and headed to the guesthouse. I could barely sit still–I was so excited to see the kids and get to work.
I unloaded my things at the guesthouse, changed and immediately headed out to one of the orphanages. This particular orphanage is small and has very limited funding. The children always seem happy, well fed and loved by their caretakers but their needs are mighty. The orphanage has two floors and around 30 children. I gave the orphanage director supplies for the kids and we discussed projects that needed completed around the facility. This orphanage does not have much outside help and doing anything so much as putting new paint on this walls is extremely expensive. We headed outside to the porch to talk more and a little one followed behind us. The children began peering around the corner seeming to wonder who we were and what we were doing there. Now, most orphanages in Haiti that do have outside assistance the children react to newcomers in a very different way. They may run up to you, yelling "blan!" or do anything they can to grab your attention. They want someone to pay attention to them, play with them and interact. However, because these specific children are not used to new people they were shy and more reserved. And, after the many of orphanages I have spent time in this was almost unfamiliar because it is not the norm of a Haitian orphanage. The little one that followed us onto the porch stood by my chair holding onto the arm. He was about three years old and was sucking his thumb and occasionally rubbing his eyes. This sweet and curious little boy eventually climbed into my lap and as I began rocking him back and forth while speaking to the creche director he quickly fell asleep. In all the chaos that is Haiti, I often find a lot of peace and this right here, was one of those moments.
We traveled back to the guesthouse and I prepared for the group to arrive the next day. I reviewed flight itineraries and the schedule, drenched myself in mosquito spray and went to sleep.
I woke up early full of excitement for everyone to arrive. I got dressed, headed down stairs for some traditional Haitian oatmeal (my favorite!) and headed over to the orphanage to start some projects while I waited for the group to arrive. Trip after trip we went to the airport and just like that everyone was here.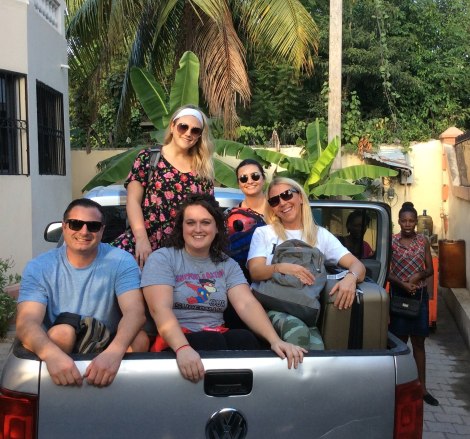 That night as we all ate dinner for the first time together, reviewed our purpose for all being here, the vision of the trip and the schedule for the week.
Day one. Day two. Day three.
The trip was officially in full swing. Everyone filled up their water bottles and we headed out to the orphanage. I honestly felt so powerful. All of the anxieties and worries I had before were completely gone. My group was here and I was leading them around Haiti. I had prayed night after night about this and God guiding me and us through this experience and I knew that no matter what might come up in the trip I was not alone–I had Him. We walked through the orphanage gates and many "bonjours" were exchanged. The kids saw us and screams came from all directions. This alone can sometimes be the most overstimulating part of the trip. Walking up to the orphanage everyday and especially the first day. This is what the kids wait for…for groups to come to hold them, rock them, throw a ball across the courtyard, talk to them and love on them. This is their norm and it is all they know until they are reunified with their families or a forever family is found for them. And, sometimes, this is all they will ever know. This is the sad reality of not just orphaned children in Haiti but orphaned children all over the world. For some of these kids, the only way they will ever know to truly love will be a very surface level definition of love. Yes, they may remember you trip after trip and some of the kids may eventually attach to you but you always leave and this is something they have become very accustomed to.
We continued walking through the orphanage and I introduced various kids to the group and showed them around. We also had the privilege of having a family join us that was there meeting their child for the first time. In the past three years of working in adoption I had never been given a chance to see a child and a family meet for the first time and this experience shook me to the core. I saw a family who had been praying for this child for 5 years finally see him walk through the doors of the orphanage and as I looked back at the family they starting falling to their knees. Tears were streaming down their faces and as I looked back at the little boy I was instantly reminded of why all of us who call ourselves orphan warriors do what we do. This little boy would soon be pulled out of an institution and placed in a family that would support him, love him and cheer him on everyday and that is why we do what we do. Now, as moved as the family was the little boy was confused. He had seen many of his friends have families come and he understood the process to an extent but they are always in awe/shock when someone has come for them. He was walking closer and closer towards the family and went straight to mom and gave her a hug. I think the reason this experience was so meaningful to me was not just because it was full circle and I was finally getting to see the whole picture but because as the little boy embraced his mom and I looked around at the other family members I could see the pain in their eyes, the joy, the love—every emotion they had experience together for the past 5 years. As the week went on I got to see this family become more and more of a family unit–a forever family if you will.
This was great for the group to see throughout the week too because they got to see more into the adoption world and advocacy efforts. We headed off to start on some projects and thought we would tackle the classrooms first. Then we moved onto the rebuilding the kitchen wall and worked on these projects for the next two days with exploring a little bit of Haiti in between. Throughout the week I saw the adoptive parents on the trip really start to connect to one another and conversations started happening involving widening age ranges, opening up to sibling groups and their ideals of what they thought they wanted in an adoption began to change as they met more and more kids and saw the needs of Haiti. From doing manual labor in the orphanage, to taking supplies to another, seeing the beach, eating pizza in Haiti and spending countless hours riding around in the back of a truck it was a quick glimpse into the country that has grown so dear to my heart and experience that I was so grateful to finally share with others.
A quote from one of the group members about her experience:
"Our orphan care trip was an indescribable experience that one can only appreciate by visiting. The smells, the sounds, the touch of holding a child's hand are experiences so unique to the orphanage and the island that they very quickly intensified the love I have for the child we have yet to bring into our family. I cannot tell you how highly I recommend putting your trust and making this trip a reality, prior to your prospective match. My ONLY reservation is, candidly, if you think you are anxious now about the length of this process prior to homecoming, just wait until you experience the love and gratitude for your visit in each any every child's eyes. It was a few days for the orphans, but it will last a lifetime for us. It's an experience that has changed our lives for the better, especially as an adoptive family to one of Haiti's littlest blessings."
If you have ever felt called to a place, a country, a cause…go explore it–discover that feeling. There is a reason you are being called in that direction. That is how I always felt about Haiti and now there is a reason that I am always saying, "see you later" and never just, "goodbye."
Trip number two is coming…won't you join me?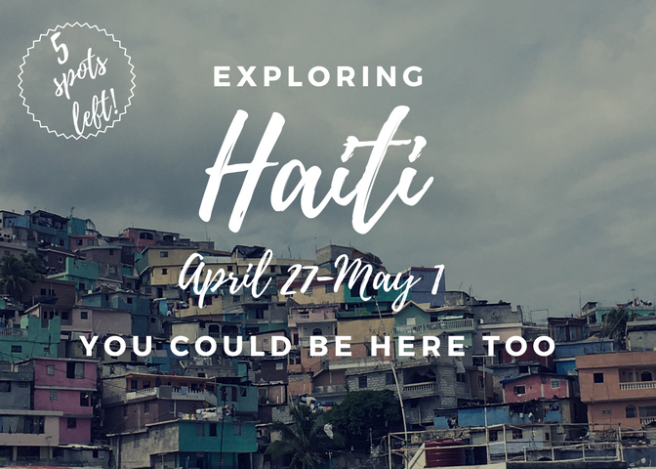 Read More