Espwa means hope in Haitian Creole and this whole trip I have been hopeful of new connections, updates from IBESR, good news from our rep, and positive movement not only on the adoption front but also in the country. So far keeping the phrase "Espwa" in mind has led us to great success. So far we have gone to Maison everyday getting updates on the children, updates on the kiddos matched, and updates on  which children are available. We also visited another orphanage that currently has 130 children and discussed what partnering with them would look like. This orphanage has a lot of children with special needs and it would be amazing to help advocate to find them families. We also ventured out to IBESR and received updates on some of the families waiting. Today we are going to Maison again and also visiting another orphanage on the other side of Port Au Prince.  
The children are amazing and so are the people. The kids love to be held, given hugs, and are constantly hanging on us (and we are soaking up every moment). Looking around the orphanages you see what little things they really have. The children are playing with brooms, sticks, rocks, and random other object they find but even with so little you can see how much "Espwa" they have. Standing outside and watching the kids run under the clothes line full of children's clothes of all sizes and looking over to see the tarp draped bathing area I really wish I could give them the world. I wish they were not given this life. And, I wish I could change their entire world. But one of my favorite adoption quotes is, "you may not be able to change the whole world, but for that one child the whole world will change." With this quote in mind and keeping "Espwa" on the brain we all will be able to change the world.. One orphan at a time.
Tomorrow we visit C4C!!
Goodnight from Haiti ❤️
Diedra helping make fresh peanut butter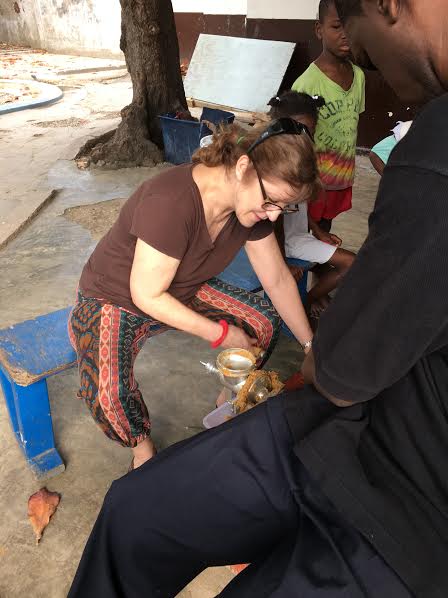 Hilary playing with the children at Maison.