Chengdu's Playground is Complete!
GWCA's Playground Project for Chengdu has been completed, and here's a photo of the children's NEW and beautiful playground. A huge thanks to all of our families! Without you, this would only be a dream for these children, and now it's a reality!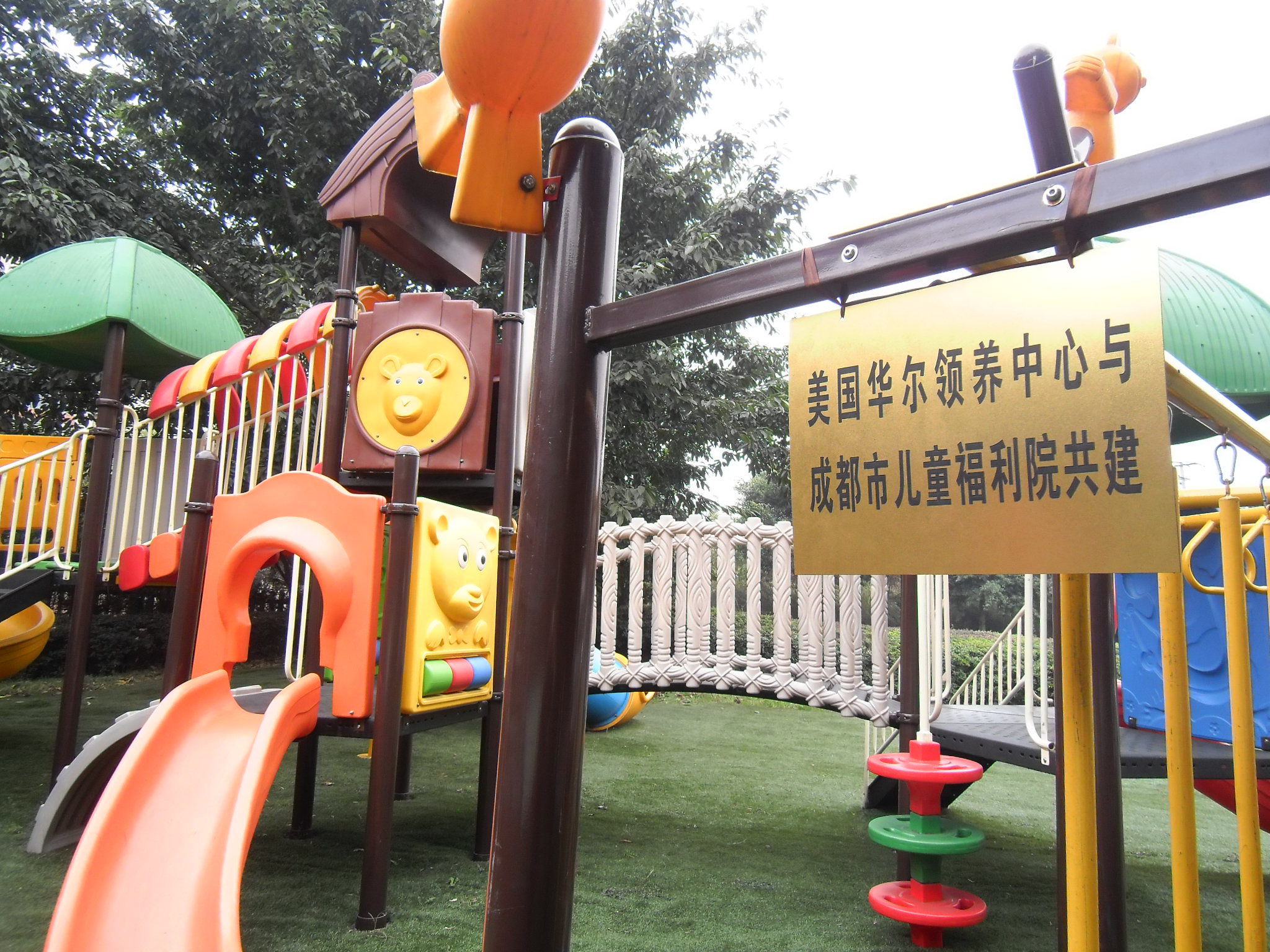 Orphanage Partners: Yuncheng, Shenzhen and Chengdu
GWCA is now working exclusively with the Yuncheng, Shenzhen and Chengdu orphanages inChina to place their waiting children. In doing so, we are working with orphanage staff to provide them with the tools they need to process the children's files, such as computers, scanners, and printers.
If you would like to donate to this need specifically, you can do so through PayPal.
NEW! JUNE'S PLAYGROUND FUND DONATION DRIVE!
During the month of June 2011, we are raising money to build playgrounds for the children of the Shenzhen and Chengdu SWIs. Currently, they have very few toys or even a space for these young children to play. We want to encourage the healthy development of these orphans as much as we can, and a time and space to be active and play with friends is essential. These playgrounds are one way we can assist and better the quality of life for them as they wait.
Our goal is to raise $20,000 for the Shenzhen and Chengdu Orphanage Playground Funds.
**Update on 7/6/11: We have raised $7,220 so far for the Chengdu and Shenzhen playgrounds! We are well on our way! Thank you to our generous donors!
GWCA staff has traveled to YC, and now SZ, social welfare institutes to meet the children and visit with orphanage staff and foster families. They worked directly with the foster families and orphanage staff to thoroughly evaluate the children's needs and development. GWCA staff provided developmental assessments of the children and reviews of medical needs and care as well as discussed with orphanage directors what information is important to include when preparing a child's file.
GWCA staff will be creating reports for each of the children based on their interactions, as well as obtaining more information about the children's special need, photos and video. Our hope is a better understanding of children's conditions and development will allow for faster placement of these children. We will keep you updated through blogs, pictures and videos of this special trip.
As a part of our YC SWI (social welfare institute) project, we are assisting the orphanage with the children's medical exams. We need your help! By donating, or "chipping in," you will receive pictures of the children and the knowledge that you are making an impact in that child's life.
YC Library of Love:
GWCA believes that children who learn to read will excel far beyond those that remain illiterate. Through our experience, we have seen that some orphanages are not able to supply sufficient reading materials for children. Our goal is to donate these supplies, through the Library of Love charity mission. We will provide sufficient materials for literacy to the entire whole of children in YC. Though this will most certainly benefit those who are in orphanages, it will also benefit every child who is given access to the library.
Update: YC Library of Love is completed! We are proud to debut YC's Library of Love. With the hard work of our staff and your generous donations, we have been able to build a place for orphans of YC to learn and read.
We turned this dark room:
Into this bright and colorful library:
Although this library is officially renovated, we still need your help to add more books, computers and additional resources.