Two Kids Home from Haiti!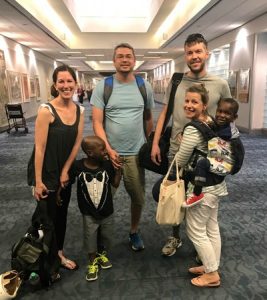 Welcome Home!
What better way to start off the week than to announce that TWO kids in our Haiti adoption program have just joined their Forever Families!
These incredible families have been waiting for this moment since the day they received their referrals. While they've since been able to visit their boys for their bonding trips, they've finally reached the moment when they'll never have to say goodbye again. Their journey up to this point has been absolutely amazing, and our Haiti adoption specialist, Hilary, has loved working with them to help bring their kiddos home. Congratulations from all of us at Children of All Nations, and welcome home!
Visit Hilary's blog to see her latest post about these kiddos coming home! 
About Haiti Adoption
CAN's Haiti adoption program has both a "Healthy Track" and a Waiting Child adoption program, making it a great fit for families with various adoption desires. There are countless reasons why our families love this program, from the close proximity to the United States to the ties to past mission trips. If you're interested in learning how you can begin your Haiti adoption journey, contact CAN today!
– Learn more about CAN's Haiti adoption program
– Contact an adoption specialist