The Ripple Effect
Have you ever heard the phrase "the ripple effect" and how one thing that you do can create a chain reaction for other individuals and ultimately impacts those around you? That is exactly what ended up happening for two girls living in Haiti through my discovery of one simple photo on our server…
I stumbled across this photo one day on our server while I was still working in the dossier department and had no idea at the time that one day I would be taking over the Haiti program. I remember turning to my co-worker who had worked here for several years and asking about them. When she did not know much of their story, I walked down to the CAN room to ask the current Haiti case manager more about their story.
This photo, the one you see below, is the exact photo I found two and a half years ago. This photo forever changed my life and eventually ended up changing theirs…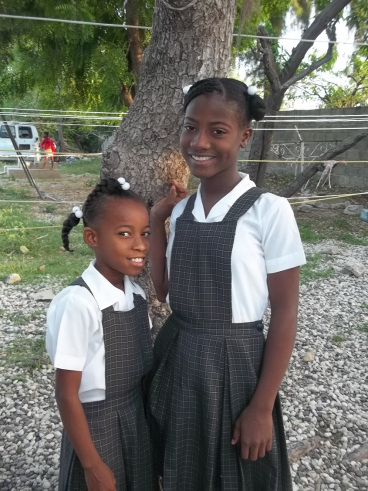 As I walked down to the CAN room and began asking questions about these two girls, some statements were made to me that broke me to the core. "They have been available for adoption for a while but not many families want to adopt older children", "if families want to adopt from Haiti they want little ones because you can still get young children from Haiti." I walked back down to my office and could not get over what I had just heard. Families adopted older children all the time. I knew this because I was the one doing the paperwork for the adoptions. I saw it all the time, and why had no one moved forward with them? Days passed and even months passed and I was constantly checking to see if they had found a family, and the answer was always no. Everyday I prayed for these girls and asked God to bring them a forever family. The family I knew they deserved. I still did not know much about them, but ever since I first saw that photo I could not get them out of my head.
Six months had passed since I started working in dossier, and I found myself at a standstill. I had always worked in direct care so moving into an office type setting was hard, and I was really starting to miss working one on one with clients and children face to face. I did a lot of soul searching and decided it was time that I started looking for another job. I was offered a job with a different company and came into work with a heavy heart to give my notice. However, God works in mysterious ways, and clearly my work here was not finished just yet… One of the managers told me that a position was opening up in the office and that I would be a great fit. Also, with my background, it seemed like something I would enjoy a little bit more. The position was an International Adoption Counselor for Children of All Nations, and this position meant that I would have an opportunity to match children from various countries with their forever families and counsel families through the process. I was immediately intrigued. I said I would like to take some time to think about it, but by the next day I was sold. They offered me the position with CAN, so I packed up my current office and moved down the hall. I was ecstatic for this new opportunity and role. I immediately wanted to be trained to take over Haiti.
As we began training I quickly realized how difficult Haiti was… The program had no structure, the timelines were long, and current families had been waiting for what seemed like forever to be matched. Even though I tried my best to stay optimistic, I was feeling a little discouraged and overwhelmed. As I learned more and started to develop my own internal structure, working with the country continued to get easier everyday. Haiti was also in the process of transitioning into becoming a Hague country, and even though this would mean the country itself would eventually have more structure no one really knew what that would actually look like moving forward. With the changes happening in country, cases stuck in IBESR (the central adoption authority) and the idea of hiring a new rep on the horizon I proposed a trip to Haiti… my first time ever traveling there. The trip was approved, and I immediately went back to the same photo of those girls. I was going to meet them.. face to face.. the girls I had been praying for for over a year now.
I arrived in Haiti, and below are some of the photos I took with the girls. Meeting them for the first time was like seeing old friends, and we hit it off from the very beginning. They both spoke English fairly well so I had an opportunity to learn various things about them. Some of the things that I learned about them was that they both loved the color red, one wanted to be an English teacher while the other wanted to be a pediatrician, they both could not wait to have a car and they liked to have their nails painted. I spent time with them every day, and when it came time to leave Haiti I was a mess. The oldest clung to me and asked me to come back for her birthday and if I could not do that then when could I come back. I told her, "this is not goodbye this is just see you later." A tear streamed down her face, and she gave me the biggest hug she had given me all week.
I got back to Texas and was beyond determined to find them their forever family. The advocacy began, and I was constantly talking to individuals in country about their paperwork, working with marketing to promote older child adoptions from Haiti, and even using my own personal social media for outreach. While the search continued I needed them to feel special, important, and cared about so we mailed them birthday cards (see photo below).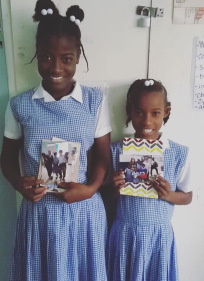 I came into work everyday praying this would be the day I got the call… a family specifically wanting older children… from Haiti. The advocacy continued, conversations were had but no one seemed to be ready to pull the trigger and move forward. Then, just like that, my prayers were answered.
I answered the phone and the woman on the other end went on to say that they were interested in older children, potentially siblings and from Haiti. I was on the edge of my seat and blurted out, "I am not sure if you would be interested but I met two older girls while I was in Haiti.. They are amazing.. I have been trying the entire time I have been back to find them a family.. Would you be willing to think about it?" Immediately, the woman answered yes and said that after everything I said about them she had to take a look at the two girls I spoke so highly of. And just like that the family applied, contracted, and sent an email that included this: "Thank you so much. I couldn't sleep last night because of our excitement and the weird path that led me to you. I've got chili bumps!!!"
I had found them a family.
And, not just any family.. The family I know that I had been praying for. I was beside myself… There are a lot of times when you are working in the adoption world that it feels odd. A lot of things you do, the advocacy, that extra email or phone call all impact the life of a child that you typically have not met. But YOU are changing their life. And sometimes it is really hard to wrap my mind around what I do, and with their case specifically I could not even formulate words; I still can't.
Time passed, the family completed their dossier, and we suggested the match to IBESR. This is not something we are typically able to do, but since the girls were older we knew we had more of a chance of IBESR saying yes. IBESR told our rep in country and the creche director that they agreed on the match and would issue the referrals, so we waited and waited for the paperwork to come through.
Four months later, we had a match.
Before the family was able to travel, another trip to Haiti was approved for me, and I was going to get to see the girls again. It had been over a year since I saw them last, and I started wondering if they would even remember me. I felt very emotional going to Haiti this time. I was traveling alone and seeing kids again that were now matched with my families. I had so many thoughts running through my mind, but I just kept coming back to the girls. I arrived in Haiti and all the fear and worry I felt before was instantly gone–I was in my happy place and my heart was full.
We pulled up to the orphanage and so many of the kids remembered me and then I saw the two sisters… They immediately ran over to me and hugged me. It was like no time had passed at all. I was able to spend time with them everyday, and I even had an opportunity to tell the girls more about what all I do and about their family. After the girls had a few days to process and continue to ask me questions about their family, I asked the girls if they would like to "meet" their family by Facetiming them. They immediately said yes, and so I set up the call. As we went upstairs to find a quiet place for us to call the girls said, "Can we call them mom and dad?", "Is it weird if we tell them we love them?" A million thoughts were running through their minds, and I could tell they were nervous. I grabbed both of their hands and said, "You can say whatever you want. You can call them whatever feels comfortable. This is your family. They chose you. You have nothing to be nervous about." They both smiled and I pressed the call button.
My week in Haiti came to an end, and I was devastated to leave. There was so much great work accomplished in one short week, but it never seems like enough because the work that needs to be done is never finished. I stopped by the orphanage to say my goodbyes, and with tears streaming down my face I got in the truck to head to the airport. All of a sudden I heard children yelling my name from the porch, the truck doors opened and I felt a lot of movement in the back of the truck. I wiped my eyes and looked around and there were a handful of children who decided they were going to go with me to the airport. One girl climbed into my lap and tears continued to stream down my cheeks. She said, "Why are you crying? Because you are sad to leave us?" I nodded my head yes and gave a her a big squeeze. She went on to say, "You do not have to go. We want you to stay." That did it. The tears became a waterfall, and I was officially a big emotional mess.
We pulled up to the airport, and I gathered my things to head inside. All of the kids jumped out of the truck and grabbed me, and then I looked up at my girls… Both of them had tears in their eyes and then they handed me the letters below. As I began to walk towards the airport, I waved back at them both and said, "Keep your heads up. Your family will be coming for you soon" and I walked into the airport.
The adjustment coming home from Haiti is always hard for me. Not only do I miss the people and the country, but the transition from life in Haiti to Texas is like night and day. Some of you that have also traveled to Haiti or other impoverished countries may have similar struggles. The realization of all the material items that we have that are a common "necessity" here in the U.S. that are unknown objects in Haiti is unreal. And of course, the work becomes more remote, as I am no longer on the grounds and able to push things along on my own or alongside our staff in country. It is an odd transition, and it usually takes me a couple of days to shake the feeling.
After a long weekend of rest I was back at work on Monday, and I was ready to take on the week. Calls were made, itineraries were finalized, flights were booked, and the girls family was ready to travel. I think we were all a variation of excited/nervous. How would it go? Was everyone prepared? How would the girls do when they finally saw them face to face? There were so many thoughts running through my mind and then I got a call from the family. They were at the airport waiting to go to Haiti. I told them I would be praying for them and the girls and I could not wait to hear how everything was going.
I anxiously awaited to hear from them and then I received the following photos and a message that stated, "After five minutes they became part of our family. Thank you so much. We love you."
This has been such a long journey for these girls. They have waited so long for someone to come for them and for a family to call their own. It takes a village to make each adoption happen, and I know that God's hands have been guiding theirs this entire time. It will still be a little while before they get to come home with their forever family, but we are through the toughest part and I cannot wait to see how much they thrive when they do get to come home.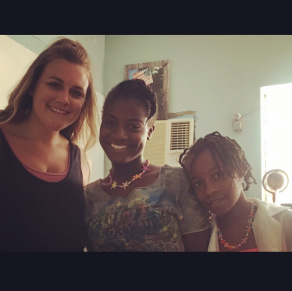 We may have been separated by two different countries, but I believe we were always destined to meet and be a part of each others lives.
– Hilary Clemons, Haiti Adoption Specialist
Resources