The Bulgarian Way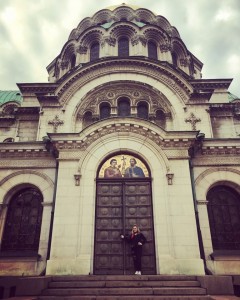 After wrapping up their stay in Poland, our CAN team headed to Bulgaria to meet with our in-country representative and visit the orphanages that we're partnered with. Here's their latest blog post about their experience in Bulgaria thus far:
Bulgaria is a country full of history, statues, culture, and prideful people. But, it is also a country with a lot of orphans. Especially orphans who have special needs or are a part of a larger sibling group. Bulgarian culture includes clothes created with immaculate stitching, dances that date back to generations from long ago, and buildings that have been standing as long as locals ancestors could remember.
As you drive around the city you notice the economic hardships the country has faced and many of the buildings are marked with graffiti. A lot of the children who have been deemed orphans are typically given up do to poverty, parents mental state, and parents socioeconomic status. It is unimaginable to picture giving away your own child simply because you do not have the means to help you and your child survive…But, this is the reality for many parents in Bulgaria. The country is developing a stronger foster care system so thankfully the children are starting to live in a family based environment versus an institution.
I cannot believe this incredible journey is now coming to and end. These past couple of days have been spent meeting with our current partners in country and also building relationships with potential new partners as a means to match more children with forever families. The program itself has grown tremendously over the past year and after this trip I anticipate the number of children matched per year to double, at least.
Today we are going to an orphanage and I will get to meet one of the children whose file we recently received. Stay tuned!
Our Bulgaria Waiting Child adoption program is a great fit for families that are open to children with needs or sibling groups. Unlike many other international adoption programs, our Bulgaria Waiting Child program allows families to request a match towards the beginning of their adoption process, rather than waiting until all of their paperwork is submitted. Each month, CAN advocates for a number of Waiting Children and sibling groups from Bulgaria, and their profiles can be found on our Waiting Child photo listing. If you're interested in learning how you can be matched, contact our CAN matching specialists or visit our photo listing today!