Thank You, Summer Interns!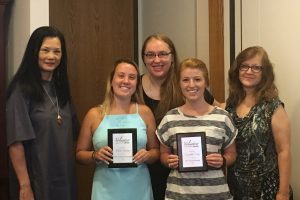 As the summer comes to an end, we are preparing to say goodbye to two incredible volunteers who have helped us immensely — our summer interns! These incredible interns have truly gone above and beyond over the past few months to help out with our agency's programs. While we are so sad to see them go, we are very excited to see what their futures hold!
Thank you so much for all of your hard work this summer, and good luck with your future studies!
Internship opportunities at GWCA, CAN, and SAE!
Are you a junior or senior in college? What about a graduate student working on a master's degree? GWCA, CAN and SAE offer internships to students in various fields of study to provide hands-on experience in international adoption and cultural exchange. This is incredibly beneficial for students interested in pursuing careers in international studies, communications, marketing, social work, psychology, sociology, and business. What's the best part? Internships can be custom-tailored to your specific major and specific area(s) of interest!
**Note: These internships are unpaid. If you or someone you know is interested, please submit a cover letter, resume, and availability to: info@childrenofallnations.com.
Learn more about our internship opportunities: CAN| GWCA | SAE