Meet April Wareham!
We are excited to give our families a little glimpse of the staff here at GWCA and CAN, so that you can see who we are and why we love doing just what we do. Every day we come to work and love to connect with our families, but now we are going to show you whose faces are behind every phone call, letter and E-mail received.
April is just a fun-loving person, plain and simple. She has this certain zest for life that's undeniable and infectious. It couldn't be more perfect that by definition her job allows her to enjoy life to it's fullest! April is always off trotting the globe, bringing back new experiences and perspectives to share with our staff. When we are graced by her presence in the office, she is often behind-the-scenes opening and developing all of the new country programs that drive Children of All Nations. She is a vital part of our organization and we lucky enough to have someone this passionate on board!
So without further ado…meet April!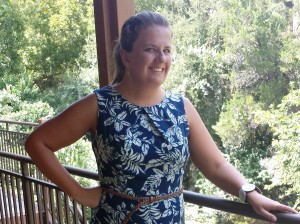 1. What is your job title and description here at GWCA?
I'm the Development and Program Management Specialist. My job is to research and compile information on new countries we plan to open, liaise with the foreign governments and orphanages we work with, hire and manage overseas staff, and coordinate our orphan care projects.
2. How long have you been working at GWCA?
It will be 3 years in September. 
3. What do you enjoy most about your job?
My favorite part of my job is when I get to travel and visit the children in the orphanages because it always gives me ideas on more ways we can help them beyond adoption. Meeting the kids and seeing their conditions first-hand motivates me to work harder at my job so we can do more for them. I also love visiting new countries and getting to know the culture, cuisine and local languages.
4. What is the most difficult aspect of your job?
The most difficult aspect is navigating the international adoption laws between the U.S. and the countries we work in, as they often change without warning. There are also many challenges to developing programs thanks to bureaucratic delays, lax adoption laws in the sending countries, and just cultural differences that can impede communication and timeliness to the adoption process.  
5. How have you grown personally from working at GWCA and with their families? 
Above all I have learned patience and understanding, as working with many different countries, cultures and across multiple language barriers can be challenging. That being said, it's allowed me to realize that we must keep the big picture in mind, which is helping the children, to achieve these qualities. I've been able to grow spiritually, emotionally and professionally by working in a field that allows for so much good to be done in the world. 
6. Why do you love adoption?
My favorite quote is "Be the change you wish to see in the world" by Gandhi. Adoption allows us to "be the change" by helping children who would otherwise have never known what a hug from a mother or father is like. Changing the world starts with one person at a time, and if there is one less orphan in the world, and one more family is created in love, then that surely is a great way to impact positive worldwide change in which the ripple effects could be far greater than we imagined.
Fun facts about April:
1. I have been to over 15 countries on 4 continents.
2. Once, in Rwanda, I ate fried grasshoppers that I helped catch and "prepare" for dinner.
3. I speak fluent Spanish and have lived a total of about a year in Latin America.
4. I was the editor of my high school newspaper and yearbook.
5. As a kid, I used to organize little holiday parades with other kids in my neighborhood, and we would parade around the block singing some holiday song for our parents with our dogs, little decorated wagons, bikes, etc to celebrate.
"April is a joy to be around!  She is always passionate and excited about something that's upcoming! She's also responsible for so much of the growth that's occurred within CAN the past few years and we owe a lot of credit to her." -April's Co-Worker