Why CAN Loves Latvia!
CAN's international adoption counselors love playing a role in helping families bring their children home, from helping them find the right adoption program to sharing updates on matches and referrals. Our adoption counselors are passionate about the programs that they work with, and are prepared to answer any questions that families may have about the adoption process and the children who are in need of families. If you're interested in speaking with one of our adoption specialists, contact us today!
Here's what one of our CAN adoption specialists, Shelby, has to say about our Latvia adoption program!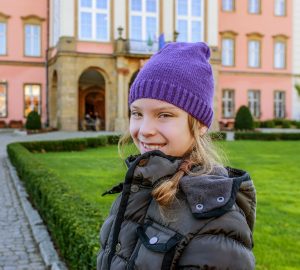 My role as an international adoption counselor requires me to wear a variety of hats. One of my favorite and most commonly worn hats is that of assisting families new to the adoption process in finding the country that fits their adoption desires. Often times I see that families are drawn to the countries that have the youngest or healthiest kiddos because that is what best suits their family's dynamics. However, my heart leaps each time a family inquires about an older child with special needs!
Older children generally have a better understanding of what adoption entails and often talk to our in-country representatives about their desire to find their forever family in the United States. Many of the older children have watched their friends in the foster homes and orphanages find families, and begin to lose hope that they will ever find a family of their own.
One of our Eastern European counties, Latvia, focuses on finding forever families for these amazing kiddos. We see a wide array of special needs in this program, ranging from very minor to more moderate or severe. In fact, some of the things that Latvia considers a minor medical need are things that we see commonly in in the United States: allergies, asthma, glasses/contacts, speech impairments, etc. For this reason, we always encourage families to gain a better understanding of what each need is before ruling out the idea of adopting a child with special needs.
The Latvia adoption journey is unique in many ways. Not only does this program offer one of the quickest waiting times to be matched (6-18 months), families are also able to travel almost immediately after receiving their child's referral. The first travel trip requires a 4 week stay in country and allows the family to bond  with their child in an environment that they're familiar with. Once the 4 week period comes to an end, the family has the opportunity to bring their kiddo back to the US to live with them until the second trip occurs, which is typically 2-4 months later. There are currently no other countries which allow adoptive families to remain with their child in between the travel trips! This program also offers the unique opportunity for families to be soft matched with a waiting child before submitting their dossier paperwork. Essentially this could cut out the majority of your 6-18 month wait time!
If you are interested in learning more about our Latvia adoption program or the special needs that we typically see, I would love to set up a time to speak with you! I can be reached at (512)323-9595 or at info@childrenofallnations.com. Together we can work to provide these incredible kiddos with the loving families they deserve!
Resources
– Learn more about adopting from Latvia
– Contact a Latvia adoption specialist
– Visit the CAN Waiting Child photo listing