A Family Perspective – Haiti Adoption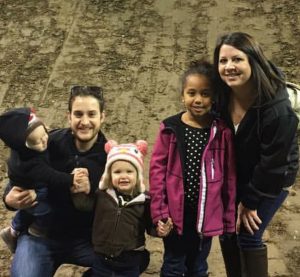 Why Haiti?
There are many factors which families take into consideration when choosing a country to adopt from. For some it's a matter of where they'll be able to find a child who fits their desired age range and level of medical needs, while others may be looking for more of a connection to their heritage or cultural beliefs.
The Lobeda family found themselves drawn to adopt from Haiti when they saw the need brought about by poverty and realized that they could make a difference for one child.
Our family is so excited to be adopting a son from Haiti! We feel called to adopt from Haiti because of the significant need. Haiti as a country is so poor and there are so many children in need of homes and a family. We feel we can make the greatest impact in adopting from Haiti and can't wait to be matched with our son! We're so excited to give love, family and a home to the child God chooses to bring into our family!
We have known for a long time that international adoption was in our future and we are so excited to finally be starting this journey. We believe that through adoption, we will complete our family with the son God chooses for us. It means we get the opportunity to love, care for and make a world of difference in our future son's life.
Learn more about the Lobeda family's journey here!
The Lobeda family is currently in process with our Haiti adoption program and working towards submitting their paperwork. We are so excited to continue following their journey as they get closer and closer to bringing their son into their family!
Haiti Adoption
CAN's Haiti adoption program has both a Healthy Track and a Waiting Child program, making it a great option for families with varying adoption desires. As such, families in this program are able to be matched with younger healthy children, sibling groups, or children of all ages with some sort of medical need.
Each year CAN has a limited number of spaces available in our Haiti adoption program, and our spots for 2017 are already almost full! If your family is interested in pursuing an adoption from Haiti, visit our website or contact our CAN adoption specialists today to learn how you can begin your journey!