Calling All Orphan Warriors!
Earlier this month our CAN matching specialist, Hilary, had the opportunity to meet several children in Bulgaria who are in need of families. We recently received the file for one of these kiddos, and we are SO incredibly hopeful that he will find a loving Forever Family. We are unable to share his photo on our blog, so if you're interested in learning more about him or viewing his photos, visit our
CAN Waiting Child photo listing
today!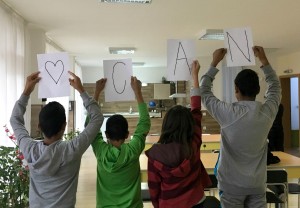 On my recent trip to Bulgaria I had the privilege of meeting one of the amazing children that we currently have with our agency. The name he has been given for advocacy is Kirk and he is 12 years old. He currently lives in a smaller group home in Sofia  and is doing well. He is working on his English, has good relationships with his peers, he is ALWAYS smiling, and did I mention that he is healthy!
Kirk is beginning to loose hope of finding a forever family because he is getting older. When he heard someone was coming from American to meet him (me) he thought they were coming to adopt him. After a conversation with the orphanage director he realized I was coming to meet him to help advocate and find him a forever family. We only have his file until December 5, 2016. Kirk mentioned he did not feel this was enough time to find him a family and I would love to prove him wrong by matching him as soon as possible! So, this means we have 38 days to match him.
He is more than deserving of having a forever family and even if you are not in a place to adopt I would greatly appreciate it if you could share my story with anyone you know that might be interested in learning more about him.
Help me, help him, find a forever family!