Boys from Burundi Matched!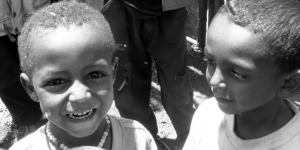 We are so happy to announce that one of the families in our Burundi adoption program was recently matched with two boys, age 3 and 12! These kiddos are absolutely beautiful, and we couldn't be happier that they have a family working hard to bring them home as soon as possible. Congratulations to this incredible family as they take this very exciting step in their adoption, we can't wait to continue following your journey as you work towards bringing your kiddos home forever!
Children of All Nations' Burundi adoption program helps match healthy children, Waiting Children and sibling groups with loving forever families. As such, it's a great program for families who are looking to adopt one or more children age 2 to 15.
It's so wonderful to see so much movement in this program, as several other families are preparing to travel within the next few months. Check back soon to see updates as families in our Burundi program prepare to welcome their kiddos home.
If your family is interested in adopting a child from Africa and you'd like to learn more about CAN's Burundi program, visit our website or contact our CAN matching specialists today!
Burundi Adoption Resources:
*Note: For privacy purposes, the picture used in this blog post is a stock photo.*