Answering the Call – Another Successful Haiti Holidays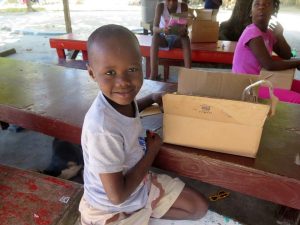 We called, and you answered. Children of All Nations' 2nd annual Haiti Holidays Donation Drive has officially come to an end, and we have been so amazed by the outpour of support from all of the #OrphanWarriors in our community. In addition to general donations, we've received diapers, formula, toothbrushes, toothpaste, lotion, soap, clothing, shoes, blankets, toys, and so much more! All of these donations will be given directly to the orphanages that CAN is partnered with in Haiti, providing them with some of the essentials that they're desperately in need of.
One shipment of supplies has already made the trek to Haiti, arriving at the orphanage on time for each of the children to receive their very own Christmas gift. For many of these children this gift was the first that they'd ever received, and you can see their joy and excitement shining through in each of the photos and videos.
Often times it's difficult to put ourselves in the shoes of those who are less fortunate. It's hard to imagine going a full day without three hot meals, or having to worry about the availability of fresh drinking water. For so many orphans around the world, however, this is the reality that is faced on a daily basis. Although it seems difficult to make a difference in their lives from such a distance, each of the families that contributed to our cause has done just that. Thank you for making our 2nd annual Haiti Holidays donation drive such a great success. While we are no longer accepting donations for this year's drive, keep an eye out for our 3rd annual Haiti Holidays donation drive, coming fall 2017. If you're looking for a way to give back in the meantime, there are countless ways to make a difference. Learn about our Fostering Hope child sponsorship program or contact us today for more information!