A Visitor from Haiti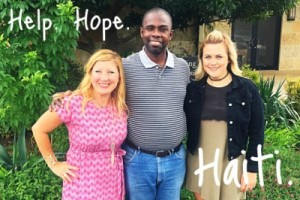 This week we were fortunate to have someone very near and dear to our hearts here in Texas, Pierre. Pierre runs a creche we are partnered with in Haiti and he will be here for the next week preaching in various churches and raising awareness about the needs in his country.
It was great being able to catch up with Pierre and get an update on how all the kiddos are doing! Our Haiti adoption specialist, Hilary, was also able to speak with Christy, who is a board member at For His Glory, an organization that helps raise funds for Pierre's creche. We discussed a lot of ideas and made plans moving forward that will hopefully continue to raise awareness and place more orphaned children in Haiti.
We would like to thank Pierre and Christy for taking the time to visit Children of All Nations. Partnerships like this play a huge role in helping Waiting Children find loving Forever Families.
Each year we have  limited number of spots available in our Haiti adoption program. If your family is interested in learning more about the children in the special needs program, contact Hilary at hilary@childrenofallnations.com today to learn how you can begin your adoption journey!