Haiti Holidays Donation Drive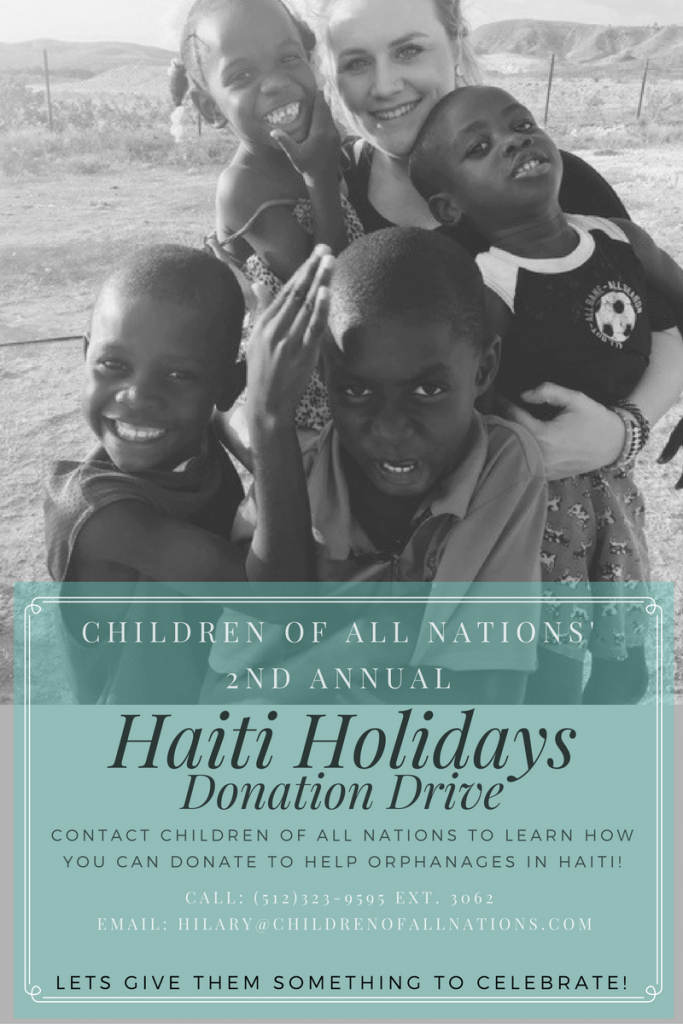 Children of All Nations is delighted to announce the launch of our 2nd annual Haiti Holidays donation drive!
The holidays are a time for gratitude and a time for giving, so we would like to take this opportunity to give back. Our Haiti Holidays donation drive was started to help to raise funds and supplies for the orphanages in Haiti that CAN is partnered with. Last year we were overjoyed by the response we received from families, and we are hoping that we will be able to provide the same support to our orphanages this year!
Each of the orphanages that we work with in Haiti have provided us with a list of the supplies that they are currently in need of. If you would like to make a contribution, you can send any of the items listed below, send a gift card, or purchase one of our Haiti Holiday t-shirts using this link: https://www.booster.com/haiti-holidays-donation-drive.
All proceeds from Haiti Holidays will be given to our partner orphanages in Haiti.
Items requested: 
– Toothbrushes
– Toothpaste
– Diapers (all sizes)
– Formula
– Clothes (For older boys and girls)
– Underwear (all size)
– Bar Soap
– Baby Powder
– Powered Milk
– Shoes (all sizes)
– Deodorant
– Baby Oil
– Shampoo
– Blankets
– Hair Accessories
– Vaseline
– Gift Cards
Items can be mailed to: 
Children of All Nations
ATTN: Hilary
248 Addie Roy Road A102
Austin, Tx 78746