2014 FAMILY REUNION
We are looking forward to your family joining us this summer for the Great Wall China Adoption and Children of All Nations 2014 Family Reunion. Our theme is "T.E.A.M." – Tell Everyone Adoption Matters, so help us spread the word!
WHEN: Friday June 20th and June 21st 2014 in the greater Austin, Texas area.
WHO: All GWCA/CAN families in all stages of the adoption process are invited (and encouraged) to attend! Pack your suitcases and head on down to the heart of Texas for a fun day by the lake! You'll have the opportunity to meet our staff as well as fellow adoptive families! This year we are also encouraging potential families to attend; what better way to learn more about adoption than to participate in an event like this? Encourage your friends to join us as well!
WHAT: Friday night we will be attending the Round Rock Express baseball game. Meet us there at 6:30pm. (The ticket to the game is included in your registration.)
Saturday from 10:00 am to 2:00 pm we will have picnic and field day events at Brushy Creek Park in Cedar Park, Tx. There is a splash pad, fishing lake, play equipment and hiking trails at the park. We will bring inflatable games, food, and beverages. There will be places to sit, but if you're not coming by plane, you might want to bring along your lawn chairs, sun umbrellas, yard games, blankets, swimsuits, sun block and anything else you need for a day in the park. If you wish to have additional drinks, please plan to bring your own coolers.
WHERE: Friday – Dell Diamond 400 E Palm Valley Blvd, Round Rock, TX 78665.          (We will meet at the main home plate entrance.)
Saturday – Brushy Creek Park 2901 Brushy Creek Rd, Cedar Park, TX 78613.
FOOD: We have recruited our male staff to be the 'master grillers'. We will have hotdogs for lunch. There will be plenty for all. Soft drinks, juice and water will also be available. (If you are a local family and would like to help donate food, ice chests, tables, etc. please reach out to shannon@gwca.org or april@childrenofallnations.com.)
REGISTRATION: $25 per person.
Registration includes:
Entrance to the Family Reunion
Food and drink at the Reunion
Unlimited access to Inflatable Games
Participation in all other activities and games
One raffle ticket
One ticket to the Round Rock Express Baseball Game(Friday Night)
2014 TEAM GWCA/CAN T-Shirt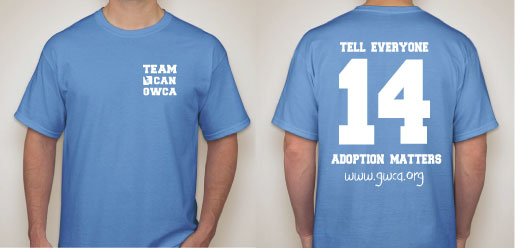 And a weekend full of making memories
For information and to register visit our reunion site.

Like our Facebook page for more event updates like this.
If you have any questions, please contact April at 512.323.9595 x 3061, april@childrenofallantions.com or Shannon at ext 3092, shannon@gwca.org.