Monday night 19 Filipino children arrived in the U.S. for our first Philippines hosting program in partnership with New Horizons for Children. For many of these children, it is the first Christmas they have ever had with a family, and for all of them, it's their first time out of the Philippines! Of course, after months of hard work and many late night phone calls to ICAB (the Philippines child protection division of the government), I was just giddy with anticipation at finally seeing the kiddos arrive. Luckily, I had the pleasure of witnessing the union of one of our Filipina host children arriving to the Austin airport and meeting her host family. It was one of the most memorable and heartwarming experiences of my life. I'm glad I hydrated myself that day, because there were lots of tears of joy, and there continue to be as I get updates on how the kids are doing.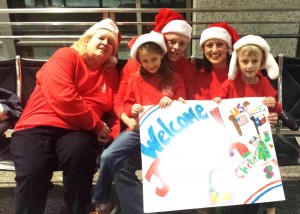 The whole family was at the airport: Mom, Dad, both of their kids and Nana, all wearing red shirts and adorable Santa hats, bearing a beautiful sign to welcome "J" to Austin and into their family. As we stood outside of the security gate, many passengers from other flights walked by and said, "man I wish I was J! What a great welcome for her! Merry Christmas!" "Merry Christmas!" the family called back as passengers walked by.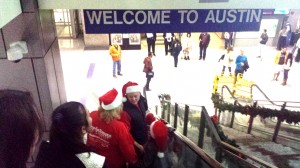 As her flight finally landed and the passengers trickled out, several of them stopped to comment when they saw the family, as they recognized J's photo on their welcome sign. They all said they saw J on the plane, that she was the cutest, sweetest little girl and that they were so happy she was able to come all the way from the Philippines to be here for the holidays. She had a special "AAI" volunteer flight attendant fly with her to escort her from the connecting flight and ensure her safe arrival.
Meanwhile, our tension was mounting because we couldn't wait to meet her! We had all been waiting so long for this moment, and we all worked so hard to bring this little girl here for her first Christmas with a family since she was 5 years old. Dad melted my heart as he had learned a significant amount of Tagalog in order to make J feel more comfortable, and was practicing the whole time with his note cards to ensure he got their first introductions right. (It's always extra sweet when men/dads do these kinds of things, right?).
Then, there she was! A few other people from the flight were following behind her and everyone stopped to witness this beautiful union. She had a big smile on her face and walked shyly over to say hi to everyone. Of course, if I had been successful in holding back my tears of joy until that point, it was all over then. Sorry for the blurry photos. It's what happens when you're overwhelmed with joy and can't keep your hands steady. (Note we have blurred out J's name and photo due to ICAB policies.)
So the Tagalog introductions by Dad commenced, and she seemed a bit taken aback, but happy that he knew her language. While she speaks some English, it can be overwhelming when no one speaks your native language and you're in a new country. All of the children in this host program are so incredibly brave. As an adult who regularly travels, I still get stressed out going to a foreign country. But these children are resilient.  They have all jumped right into life with their host families, calling them mom and dad already, bonding with their children, and some even brought their host families gifts! Let me emphasize that these children are orphans and have very little or nothing that is their own, yet they made a sacrifice to bring a gift for their host family. This brings me to my next point and the title to this blog.
What we should be focusing on this holiday season is loving each other. It shouldn't be all about gifts, decorating, parties and shopping. While all of these things can help get us excited about the holidays, we need to remember that regardless of our religion or background, this is the season to LOVE each other. These host families have brought these children into their lives out of love. These children have brought gifts to their families and made a true sacrifice by doing so out of love. The families have brought the children so much joy, and vice versa. They a blessing in each other's lives, and the hosting program is a reminder that what we should focus on is blessing someone else with this gift of love, especially if it means making a sacrifice ourselves.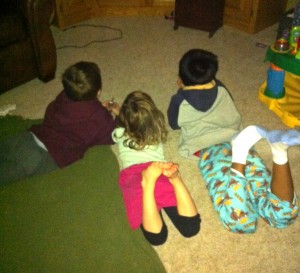 With this in mind, we wish you Happy Holidays from the CAN Staff. We invite you to spread some love from now until the end of the year in the spirit of orphan care, and enjoy these photos of our Filipino kids having the time of their lives!
Read More