11 Kids Coming Home from Bulgaria!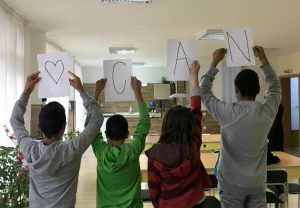 There's nothing quite as amazing as watching a family finish their adoption and bring the newest members of their family home. It a long road to travel, but a worthwhile journey which has a lifelong impact on the lives of all those involved.
This month we are excited to congratulate four families in our Bulgaria adoption program who have just reached this milestone in their adoption journeys. These four families will be bringing home a total of eleven kids all of whom are in sibling groups of 2-4 kids!
– Sibling group of 4 recently home!
– Sibling group of 3 coming home soon!
– Sibling set of 2 (Twins!) coming home this week!
– Sibling set of 2 coming home soon!
Congratulations to each and every one of these families from all of us at GWCA and CAN! It's truly incredible to see so many sibling groups finding their forever homes, and we are hopeful that many more will be matched with families soon.
Our Bulgaria Waiting Child adoption program is dedicated to finding homes for older children, sibling groups, and children of all ages with special needs. This program is a great option for families who are looking for a fast adoption process, as you can be matched with a child or sibling group at any point in your adoption journey. If you're interested in learning more about our Bulgaria adoption program or the kids that we're currently advocating for, visit CAN's Waiting Child photo listing or contact our Bulgaria matching specialists today!
Resources: