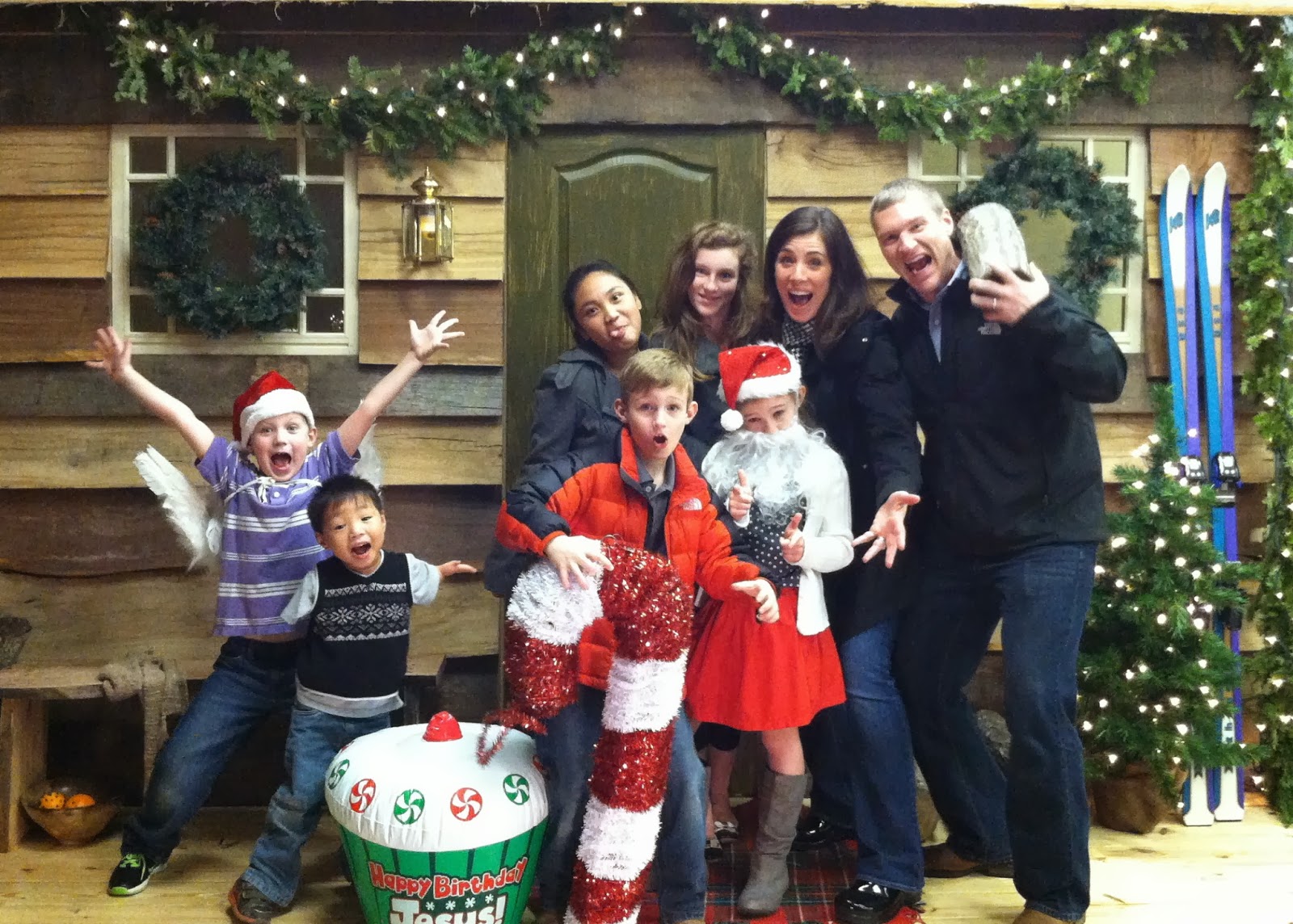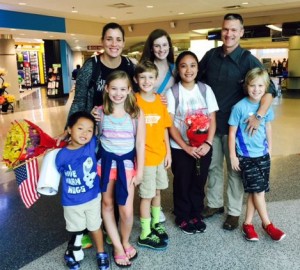 The Beam family hosted Christine through the Philippines Winter 2013-2014 program. Although they entered the program with the intention of acting as advocates, Christine captured their hearts and they later began the adoption process to bring her into their family forever. This blog serves not only as a great resource for families considering the Philippines hosting and adoption programs, but families looking into International Adoption as a whole, as they include sections on their fundraising, travel, and bonding.
November 2013: Christine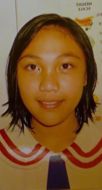 Before I share with you a cool story of how God met us when we stepped out to host, let me fill you in a little about hosting.
First of all, this is something anyone can do!  Hosting an orphan increases his/her chances of being adopted.  In fact, our hosting agency, has a 70% 'success rate.'  Meaning 70% of the children who are hosted get adopted!  Isn't that incredible!?  That's the greatest purpose behind hosting.  The hope is that families who are open to adopting will meet these children and God will prick their hearts to step forward and adopt them!
A second purpose is to simply show these children what a family is.  Most of them have never experienced a family.  I think about how much my family takes for granted just being a family.  We all take each other so for granted!  Ugh.  It pains me every day.  But to be part of a loving family is one of God's greatest blessings.  To feel belonging and love and acceptance no matter what.  Priceless.
One of the greatest benefits of hosting a child is that she/he will learn about and experience Jesus' love in a more tangible way.  We hope that Christine will learn about Jesus while she's here with us (despite our shortcomings).  May she feel His love and be drawn to Him.  What a gift!  Especially at Christmas time.
What a lot of people don't know is that being a host family has a cost associated with it.  It can definitely be an obstacle.  It certainly was for us.  We've been interested in hosting for a couple of years, but simply didn't know how in the world we could swing the costs.  But for whatever reason we felt very compelled this year to just step out and trust that God would meet us there.  Wow, has He ever!
The cost to bring Christine over is $3150.  That's all the travel expenses (multiple flights, visas, passports, travel chaperones, and agency fees to coordinate it all).  The day that we were filling out the pre-app (and feeling lots of trepidation!), we learned that Christine had just been assigned a $1000 scholarship!  We took that as affirmation that we were doing the right thing and that God was trying to indicate that He was behind this and we could trust Him.
Our balance was now $2150.  We submitted the pre-app and began working on the, application!… references, a home visit by a social worker, the rules of hosting a child, 12 hours of training, etc.  Yikes!
A few days later, we get a call from our coordinator who said I wouldn't believe it but a gentleman and his wife who'd hoped to host this year, but can't wanted to contribute money to the 'most needy child' to increase his/her chances of being adopted.  Our Christine was it!  She's 14 and will be 15 in December!  She'll age out of the orphanage at 16 and be literally put out on the streets with the clothes on her back…very likely headed into a life of prostitution and desperation.  $1000 this generous couple gave!  A perfect stranger!
Balance: $1150.
Then, a local friend who hosted a child last Christmas and had been cheering us on the whole time said immediately that she and her husband wanted to help with our expenses.  They chipped in $400!
Balance: $750.
Then we paid our required payment of $600.
Balance: $150.
Then, a few weeks later I went to my hairdresser who is a friend from church.  We were catching up.  She asked how James is doing and had some questions about adoption, etc.  I shared with her about our plans to host Christine and how this step of faith was being affirmed through provision, provision and more provision.  I said, 'Fran, can you believe that all we have left to pay now is $150?!  Isn't God so cool when He shows Himself as trustworthy and faithful?'  She loved hearing the story about Christine and told me that she grew up with always having lots of 'visitors' in their home — 'strangers' at Thanksgiving dinner…just people her parents opened their home to.  I loved hearing that because she's such an open and loving person.  As a parent, I can only hope that our kids will grow to be adults with open, loving hearts towards others.
As I got up to leave and began digging in my purse to get out my payment, she said, 'I want you to keep that and put it towards your balance for bringing Christine.'  Gulp.  I had $130 in my purse.
Done! 
December 2013: 5 Days
Five days and counting until Christine arrives.

We are so excited for her to come, yet I feel like a chicken with my head cut off.  The kids keep asking me, 'When, mama, when will Christine come?'  They are super excited.  In fact, a couple of them keep asking why we can't adopt her.  It's a tough one, right?  I mean, God opened their hearts to adoption.  They get it and know how wonderful it can be thanks to our wonderful Jimmy Jam.  So I find myself saying I don't feel in my heart that we're meant to adopt Christine, we're just meant to bring her here, love on her and help her find her family.
A pair of pajamas and a toothbrush & toothpaste wait on her bed for her.
I just ordered her a stocking that matches ours with her name embroidered on it.  I couldn't imagine picking up some random stocking and having her feel, perhaps again, like the odd man out.  And I hope it might mean a lot to her to have her very own stocking with her name on it.
Our dear friends, yet again, have risen to the occasion.  They're always so quick to show us that they're with us on these little 'adventures' God sends us on.  They gave us a $100 Target gift card to take Christine shopping.  Mm-mm-mm.
And it doesn't end there…
Two fellow Hopers (i.e. folks who attend our church, HOPE Church) have offered to treat Christine at no cost.  A dentist and an eye doctor.
This is huge, y'all.  The dentist is even coming in on his day off to treat her so he can devote all the time necessary to her possible need for restorations.
A family with a 15 year old has offered hand-me-downs from their daughter.  Yes!
It's amazing to watch God move in His people and to see a community rally around a girl from a faraway land.  A girl no one's even met, but who we all know deserves to experience Jesus and to feel loved.
We're rocking and rolling and looking forward to 8:45 PM when her flight arrives on Monday!
Please pray that she feels safe and comfortable with us.  Can you imagine the bravery of this young woman to come here literally all by herself?
That alone is humbling.
December 2013: The Christmas of Christine
This is like that show 'The First 48 Hours.' 
Day One (Tuesday): we had to introduce her to Sweet Frog, of course.  Largely due to the fact that a sweet friend gave us a gift card to use when Christine was here.  We have the best friends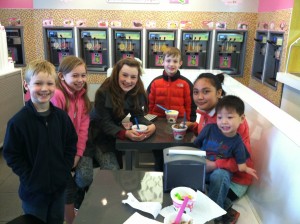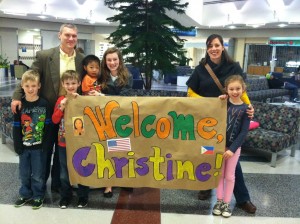 This Christmas is proving to be a very special one with Christine here.  Somehow having her here has added a little sparkle to our days.  Amazing what opening your heart and home does for your spirit.  The kids are floating (er, at least they were for the first 36 hours)…now they're slowly returning to their normal fussing, tattling, whining, arguing ways.
Welcome, Christine.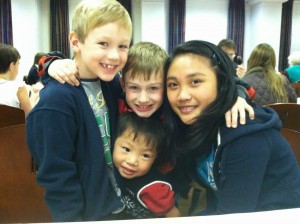 This is family.
I'm amazed at how well things are going.  I expected nothing less, but all the 'manuals' and 'trainings' for hosting warn you that it won't be a cake walk and that most kids aren't going to be without attitude problems, gratitude issues, sulking, etc.  I've seen nothing of the sort so far.
Yes, I know it's early, but so far so good.
December 2013: Little Update
Things continue to go well. Our kids are amazing kids. Really all kids are amazing in their ability to accept people for who they are.  I've learned that it's not until later in life that we put so many parameters around people. But Christine is also easy. She's just a sweet, sweet girl.  She has this smirky, half-smile she does when something tickles her. She's quick on her feet with humor. She's open and willing to try new things, like Chick-fil-A, Sweet Frog, Panera, and going to the Nutcracker. The poor girl got multiple fillings on Friday, yet she'd never had Novocain before.  She was such a trooper.
She loves to fold laundry!  Yes, you read that right.  When I walk in the room with an overflowing laundry basket (which is daily), she jumps right up and comes over to help.  In fact, the other day I left it and came back and it was folded.  And what do our kids do when she jumps up to help?  Declare how much I love to fold laundry and it's just what moms do, so it's okay if I do it every day without their help.  I kid you not!  They said that.  Phew. They have a lot to learn!  Ha!
Payton and Christine have hit it off.  I find them up in Payton's room just hanging out, shooting the breeze and doing what teen/pre-teen girls do.  Christine loves to write, read and sing.  Payton said when she learned that about Christine, she couldn't believe how much they have in common.
James has really taken to her, along with Jackson.  Avery's definitely a fan and Brookster is his own, independent, kind of aloof self.  Man, I love that kid.  Sometimes I look out the window and see him walking around in our yard with a dinosaur or lizard toy just lost in make believe.  So sweet.  He doesn't need high levels of entertainment.  I love that about him.  And he's the one who I greeted first in the family room the morning after Christine had arrived (she was still sleeping) and he said with the hugest Christmas-morning-grin on his face that he couldn't believe Christine was finally here.
She is amazingly Americanized.  She's read the Harry Potter series, Percy Jackson series, Hunger Games series…you name it.  She loves American Idol, pizza, bbq ribs, and iced tea.  Her English is superb.  Man, that's made all the difference.  Being able to talk with her has been so nice.
It's been great getting to know her and hearing about her life and growing to appreciate more and more what a strong young lady she is.  I appreciate everything she shares with us.  And she and Payton have some really great conversations.
December 2013: Merry Christmas!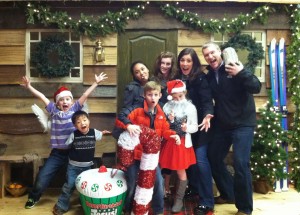 Couldn't get the cards in the mail this year.  A first, but I'm oddly okay with it — which is interesting because I used to 
love 
to do them.  A new season, I suppose. I did still make unending amounts of Chex Mix — that mostly went into our mouths and into very few hands as compared to past years.  I got a late start, but rallied at the end! The fudge for Santa is made. The Oreo balls are in the freezer. A nice Christmas meal is planned for tomorrow to share with our dear family and friends who have come to spend it with us.  We are thankful for times of feasting when so many are without. We couldn't be more grateful for good health as we are acutely aware of and praying for our dear ones who are unwell and fighting the good fight. We are thankful for family as we are acutely aware of those millions of lonely hearts across this globe.  Including the one who is currently resting her head in our home each night. We are thankful for fellowship as we are acutely aware of how it fills our hearts with joy, laughter and cheer. So, here's to you and yours this Christmas!  May 2014 be blessed!
January 2014: Christmas, family, friends, and eggs?
This Christmas was one of our best yet. Only God.
We had so much more 'on our plate' than ever before with Christine being here and having a house full, but it was wonderful. It was full, rich, abundant. One I won't soon forget.
On Christmas Eve, Tommy and Wilma (JD's parents) arrived, Beverly and Bootsie came by for a visit and, later that evening, JD's childhood buddy, Theron, and his wife, Jeanette arrived.  We were so tickled that they would want to come spend Christmas with us.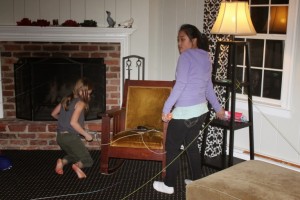 Then it was on to our Christmas Eve tradition of the kids following their strings to their ends to discover their Christmas jammies (did you see this hilarious video?). It was fun having Christine there to participate in all our family's traditions.
And before we turned in for the night, Theron got Lucy all wound up to the point of her boot-scooting all over the family room, including on and off the couch.  Such a goofball.
On to Christmas morning!…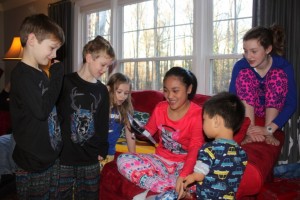 The kids drew names and Brooks had to have Christine open her gift from him first.  It was, a-hem, a fart machine…she's quite the prankster and was so excited to get it.   had to run into Spencers to get it and I couldn't even say the 'f' word.  I'm such a wimp.  I said, 'flatulence machine' and the guy didn't know what I was talking about!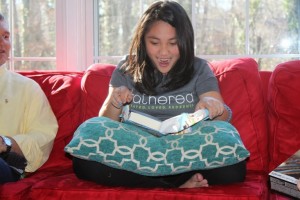 Christine was excited to get the first book of a series she wanted to read (Teardrops).  The girl is a reader.  Like, three days ago, I got her the next three books in the series at the library and she's already read them!
What a great Christmas!  Thankful to end 2013 feeling so blessed. We're ready to tackle 2014 with gusto! Happy New Year!
January 2014: Hitting the Ground Running
January's been a busy month.
The 16th was the day we were all dreading…saying goodbye to Christine.  She handled it with such poise and grace.  None of us cried.  I was close, but really wanted to hold it together for her.  It began to snow on the way to the airport at 4:30 AM.  Poor girl missed the snow by an hour or two.  One of her greatest requests was one we had no control over.  It came the day she left.  Boo.
Our time with Christine was truly special.  She is a remarkable young lady.  She has a lot of bumps
and bruises from a childhood she did not create nor choose and yet she's full of zest, adventure, joy and the capacity to love.
It baffles us why she was never hosted before.  She doesn't know why either.  She was just never picked.  God definitely picked her for us because we were open to hosting anyone, just not a teenage boy. Well, guess what?  When we were ready to be matched the only children left were teenage boys and Christine.  Bingo.  We knew she was the one for us!
Our only real 'concern' was how she would get along with the children, especially Payton.
Oh my. Why do I doubt God's ability — and desire! — to give us what we wish for?!
She and Payton hit it off.  The first night (Christine had been with us for two hours), Christine invited Payton to share the guest room with her.  We encouraged it knowing Christine normally shares a room with three or four other girls, so being put in a room by herself in a strange house, in a foreign land with complete strangers might be a little daunting for her.  She took me up on my offer!
Payton and Christine sat up talking in bed and learned that they have a lot in common — the both love music, reading, movies, singing, etc.  The next day, Christine slept until noon and Payton told me, through her grin, that she wasn't expecting to have so much in common with Christine.  That was the beginning of a great friendship between those two.
Christine also bonded with our other kids too — she was a huge fan of James (who isn't?!), but also had sweet moments with Jackson and Avery and Brooks.  She really likes them as people.  She was very complimentary about Avery and Jackson's character and personalities.  She and Brooks got along great too, but Brooks is our solo guy…he's very happy to be outside by himself exploring the yard and woods.  He often goes off and does his own thing, so although he was the one who asked me about ten times when she was going to wake up that first morning, and he sheepishly whispered things to me like, 'I'm so glad Christine's here' or 'Does she have to leave so soon?', he isn't an overtly outward person who is overly expressive around his fondness for others — except certain friends who are always his 'best friend.' 🙂  Sweet boy.
Every time James went to school or Christine was separated from him for a time, when they would reunite, she would hug him and tell him she missed him.  Oh my goodness, so sweet!  And James definitely took a liking to Christine.  So much so that one day, as we were driving down the road lamenting out loud about how Christine only had a couple more days with us, James blurted out, "Mama, why can't we adopt Christine?  I want to!"  He's definitely coming to understand the concept of adoption and thinks this is a very simple request, like 'Can we eat lunch at Chick-Fil-A today?'  So sweet and innocent, a child's heart!
Nonetheless, we definitely miss Christine and felt a void when we returned home from the airport.  We would love nothing more than to bring her back again this summer.  We shall see.
Praying…
April 2014: Good News!
Omigoodness, I've been waiting almost three months to write this post!  Perhaps compared to this announcement, nothing else seemed worthy of reporting?
We are adopting Christine!
And she now knows!
We weren't able to say anything publicly until she was notified and we found out last week that she was notified by her orphanage director because the Philippines gave them the official word.
You are being adopted.
The Beams are adopting you.
You've been chosen.
You're not alone.
You're loved.  
Her reaction?
Ecstatic
Screamed
Cried
Can you believe that?
Sweet girl.
We had to say good-bye to her without being allowed to have a single conversation with her about whether she would even like us to adopt her.  We certainly didn't enter into hosting her with the plans of adopting her, but she quickly gelled with everyone in our family and we started having secret conversations about whether or not we should consider adopting her.  We suddenly went from closed hearts to open hearts and we were asking God why.
Immediately upon her departure (like that night!), we sat the kids down to talk to them about the hosting experience.  We wanted to see if we all felt a void now that Christine was gone or if it was back to 'business as usual.'  It was not.  We were sad.
That was a powerful sign.
Why did God have us all on the same page?  How did Payton's hesitancies of having an older sibling suddenly disappear?  How did my dread of adopting again dissolve at the idea of adopting a sweet teenage girl versus a toddler (uh, very easily!  ha!).  It felt like a crazy turn of events, but it also felt very right.  
So, in January, we began a new home study.  And I'm happy to say that it should be done any day.  Just waiting for a few last pieces and — boom! — approved!
We've already started working on our dossier so that's good.  We're hoping to travel sooner rather than later.
Thank you so, so much for your prayers and support.
Sometimes I can't believe we're adopting again!
May 2014: Lay it down
I haven't posted on here because, well, I'm in a bit of a funk about Christine's adoption — really just how slow it's progressing.  You'd think I would've learned well with James' adoption that I have no control over this thing.  It's such an act of surrender — of laying down my timelines, deadlines, and plans and trusting God's.  It's so hard sometimes.
I honestly thought we'd be half way through our dossier by now, but we only just got our hands on our completed home study yesterday.  I've been saying for months that our home study is done — and it essentially was.  Almost.  And then there was this delay or that delay.  The good news is that it. is. in. our. hands.  Now, we can truly pursue the dossier with gusto and start applying for matching grants to help fund this beast.  We're also going to do some fundraisers this summer that I'll post more about later.  We have so, so much to do.  I think part of my funk is that I don't want to do all this — it's summer!  It's the time I usually recharge a bit for the next school year.  Isn't that so selfish of me?  Talk about ridiculous.  You'd think I'd be grateful to have such a purposeful goal to be working toward — a reason to rise each day!  Each day, I have the privilege of hanging with our kids, having some fun with them, while also working toward the adoption of a sweet young woman who is waiting for us.  But, no.  I'm feeling worn out and discouraged.  It's ike I'm at the foot of a mountain staring up at it.
This is when my faith in God comes in.  I trust Him.  I really, really do.  I know that in no time He'll have us over that mountain, one simple, small step at a time.  One foot in front of the other.  One form, one signature, one notarization, one dollar at a time.  I'm so grateful.  I do not know what I'd do without the clear knowledge that He's in control and He will make this happen.
Hang in there, Christine.  We'll be there soon.
How cool would it be for her to be with us by Christmas?
July 2014: Update – Christine
Really overdue with an update on our adoption of Christine…
We were so excited to send off some important paperwork a week or two ago.  What a relief!
We sent off our I-800A which requests approval from our government to adopt Christine.  We'll get a date to be federally fingerprinted and will go to Norfolk to do that in the next month or so.  Once our fingerprints are done, we'll receive approval to adopt her and will file our I-800 to immigrate her.
While in this stage, we're plugging away at what our dossier needs to entail: certified/authenticated birth certificates for JD and me, certified marriage license, state police background check, guardianship letter, letters from Payton and Avery, etc.  The dossier will then be certified/apostilled by our Secretary of State, then onto the Secretary of State at the federal level and then to the Philippine Embassy for approval.  Finally, it will be sent to the Philippines.  Our hope is to have that happen by the end of August.
This is a lot of explanation to say that our hopes of bringing Christine home by Christmas may be a long shot.  Boo.  We were told by Children of All Nations (our adoption agency) that it could take three months to hear back from the Philippines.  Sigh.  We were hoping to hear very quickly and get travel approval very quickly thereafter.  We'd love to travel to get her this fall and have her here with her new family (!) for her birthday and to celebrate Christmas.  With God, all things are possible so that's our prayer.  And, frankly, I must mention that there are many friends/families we know who are stuck in the political and bureaucratic web that is international adoption and are being told they may never bring their children home, so if we have to wait beyond our deadline by a few months, so be it. We will eventually have Christine home.  Prayers for our friends who are swimming in a sea of unknowns.
The other thing we sent off a week or two ago was our application to the Fathered Fund, our church's adoption fund.  We're hoping to be awarded a matching grant which means everything we fundraise up to $2500-5,000 could be matched!  That would be incredible!  We hope to hear from Lifesong for Orphans (the administrator of the fund) in the next several weeks.
Speaking of fundraising!  Here's what we have going:
Shoes, shoes, and more shoes!  If you're on Facebook, you know that we've been collecting shoes for about two months and just had our first pick up today.  We donated 66 bags of shoes!  That's 1650 pairs!  Everyone has been so incredible helping us collect them!  We get paid $10 per bag of 25 shoes, so we should get a check soon for several hundred dollars!  After taxes, of course.  Grrr.  If only we were a non-profit, our donation would be tax free!
Here are some photos of our lives being taken over by shoes: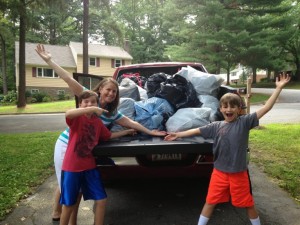 My sweet friend, Tracy, must've single-handedly collected 150 pairs!  Amongst many others who have taken this shoe drive on as their own.  We are so, so grateful.  JD and I were just saying that we need to make a list of all the people who've been so integral in making this happen.  We want Christine to see how many people stepped up to the challenge to help get her home.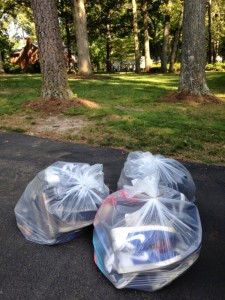 The other thing we're doing is selling t-shirts.  I love the message.
Love Found Me.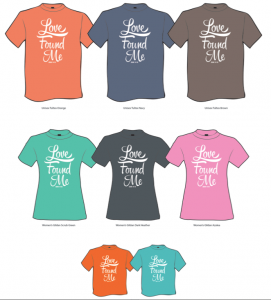 Several years ago, HOPE (our church) hosted a great band called Revive.  I believe they were an Australian group.  They sold a shirt that said 'Love Found Me.'  I bought one and wore it often.
One day a couple of summers ago, I was wearing it in Michigan and walked into a gas station and this young lad behind the counter read my shirt and said, 'Are you a Christian?  I like your shirt.'  I found it so neat that he got the message, 'Love found me.  God found me.'
A year or so later, my shirt was getting tattered and I decided I wanted another one so I went on-line to find Revive's apparel to order another.  I was surprised to find that they had disbanded due to the travel schedule, having families and feeling called to other missions.  I was bummed that I wouldn't be able to replace my shirt.
Until now.
The cool thing is that when I bought that shirt years ago, adoption wasn't even on my radar.  So now the message means even more to me.  And coupling it with one of my favorite adoption verses (John 14:18, see previous post) makes it that much more of a great adoption shirt.
If you're interested in purchasing one (or ten!) to support our adoption, please go to:
www.beamteaminc.bigcartel.com
Finally, we're selling original pieces of art.  By collaborating with my dear friend, Beverly, who gave me free reign of her beautiful archive of thousands of amazing photos.  I'm making mosaics of the Richmond cityscape and of florals and still-life.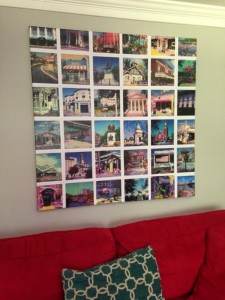 November 2014: We're Alive
What a drought!
I don't know if my not posting can be explained by busyness or lack of interest in posting or both, but I apologize to those of you who actually still check this blog.  Thanks for reaching out to see if we're well!
Plus, I'm thankful to have a few minutes to record the happenings of the last few months.  There have been 'developments' on several fronts.  Here's a long overdue update!
I know many are anxious to hear the latest with Christine's adoption.  Our dossier arrived in the Philippines in early October.  Our agency told us we would hear back from ICAB (the Intercountry Adoption Board in the Philippines) within 2-3 months with an approval.  Then, we'd have 4-6 months from there until we travel.  Needless to say, I was dumbfounded when I heard that.  That's excessive considering we were told last January that this entire process, from beginning to end, would be much faster because we're a host-to-adopt family — the timeframe they gave us then was 4-6 months (for the whole adoption!).  Clearly, we're not even close (it'll be a year in February).  We're hoping to have Christine home sometime this spring.  Sweet girl is waiting so patiently.  She turns 15 on December 18th.  Sniff.
As we've begun preparing for Christmas this year, there have been lots of comments starting with, 'Remember last year…' as we've remembered fondly our time with Christine.  We're all missing her and wishing she were here.  But we trust God's timing and know He goes before us.
So much so that I should update on our fundraising efforts.  Due to the very generous and loving response of so many family and friends, we have made all our payments to our agency!  Y'all, that's like $15,000!  We were awarded a $3000 matching grant from the Fathered Fund (Lifesong for Orphans) and quickly met it.  We have travel expenses to come, but God is already providing!  We received news this week that my dear uncle 'nominated' us to be considered for a $5000 gift that his company gives each year to a deserving entity or individual and we were chosen!  Talk about humbled.  And tearful!  Wow.  We feel so ridiculously undeserving.
Our shoe drive that was supposed to be three months long, ended up being six months long and is finally coming to an end.  It has been so, so fun to see a community of people rally to support our adoption through donating old shoes, but our house was taken over by shoes over these last many months and I'm super ready for the shoes to be out of our house!  I'm ready to enter into the beauty and peace of Christmas — without dirty, smelly shoes around!
For our last pick up, we had 72 bags all over our front room.  There was a rabbit trail through the room.  Ahhh….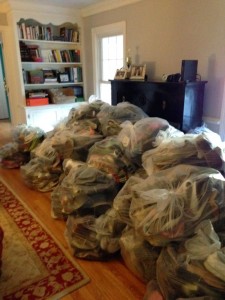 July 2015: We're here!
It's Monday, July 27th and we're here in the Baguio Children's Home where Christine has lived for the last five years.  I wish I could chronicle every thought, sight and feeling so far.  I can tell that my time on-line is going to be very limited.  Not just by the spotty internet signal, but the opportunities to sit and write are going to be few.  And posting photos is hard.  No time to download the photos.  When we were in China, we spent many days just hanging out in our hotel room — we didn't yearn to get out and about, we were trying to be sensitive to the fact that James had hardly ever ridden in a car and we were strangers to him.  Plus, he napped.  🙂
This time, we're adopting a teenager who is very much aware of the fact that she's about to lose every stinkin' thing that's familiar to her.  It's altogether different.
Our flights/travels here were great.  Smooth and issue-free (after God overcame our seat assignment debacle).  Even our drive to Baguio from Manilla was peaceful — I felt your prayers!  Thank you!  We were on the windiest road, in rain, where cars do not stay in their lanes.  God was carrying us along the roadways to accomplish the goal He set before us.  Every bit of this trip, each day that passes, is a step closer to bringing Christine home.  A joy for us!  But at great loss for her.
The reality is that Christine is saying her last goodbyes to the people she loves.  She will leave every familiar sight, sound, smell she experiences everyday.  We were awoken to roosters crowing this morning.  We slept with our windows open all night.  She wanted to ride along while a caregiver took the older children to school, so she went downstairs before us and we could hear the immediate squeals of delight when the children came running to greet her (she's like a mama to them).  Our hearts ache at what's in store for her.
The adults in her life are amazing.  It seems she's as prepared as she can be.  I humbly ask for your prayers for her and our family as we set out to care for her broken and grieving heart the best we can.
We will hang here for the next two days.  A farewell party is planned for her tomorrow night.  There will be many tears.
We had the absolute joy of going to church last night and it was incredible!  I have the best video to post.  I will do a post soon with photos and videos — perhaps when we return to Manilla and have a faster signal and more down time.
We love you all!  Thank you from the bottom of our hearts for carrying us with your prayers.
July 2015: Last day in Baguio
Yesterday, we laid low quite a bit.  The women who run this home have lavished us with some of the most delicious Filipino food.  In the Filipino culture, you show someone you care for them by cooking for them.  We have felt so cared for.  Especially me — what a treat it has been to come downstairs and find a table set with a hot meal prepared.  And this is after they've fed 25 children!  Twenty-five.  I have a hard time feeding five sometimes.  🙂
The children here are absolutely stealing our hearts.  They are beyond precious.  Their eyes are as round as saucers and the deepest brown.  Their hair is smooth as silk and so very fine.  I so, so wish I could post photos of them, but I'm prohibited from doing so.  One little one named Christian whose about two-years-old, comes straight for me when I come downstairs and puts his hands up for me to pick him up.  I just sway and sway while he lays his head on my shoulder.  I prayed over him that the Lord would bring him a family.  I found out yesterday that he's soon to be matched with a family.  Oh, the grace.  During our second cuddle session yesterday, he promptly fell asleep.  I found myself a comfortable chair and just let him sleep on me for a time.  These are precious moments with these children that we'll never forget.
Avery has a little fan too.  His name's EJ.  He beelines for her when she enters the room.  The first several times she scooped up a little one or two, she immediately said, 'Oh!  They're way lighter than James and I carry James all the time.'  They're the sweetest little loves.  The good news is that several are on their way to being adopted.  Avery's heart was already warm and sweet, but coming here has caused her to make the declaration that she will definitely adopt one day.  She says she would love to adopt from this children's home.  This seed that's been planted in her heart is a beautiful thing to JD and me because we clearly cannot adopt all the children who steal our hearts.  But a heart for adoption can be passed on for many generations.  Mm-mm-mm.
Christine had a good day yesterday.  She seemed more at ease — probably because we are in her home and she's surrounded by everyone she loves.  She is processing, but doing well.  Thank you for your prayers.  She (and we, as her parents) will need them over the next many months as she adjusts to life in the States with us.  It breaks our hearts that she will have to leave all the familiarity of home, the very thing we are looking forward to returning to, but we know (and so does she) that this is best for her.  Now and for her future.  Perhaps one day, as an adult, she will choose to return to the Philippines, permanently or on missions.  Whatever she chooses, we will support her.
We also strolled up the street yesterday to the Children's Recovery Unit, a home for children who have been in the hospital.  Several are fighting leukemia.  Others have had major surgeries/illnesses.  Some of parents, some do not.  Again, the women who run it are dear, dear women.  In fact, there's a husband-wife team who live there as the 'house parents.'  They are raising their two children while doing this amazing work.  These are the times when I see Jesus in the lives of ordinary people who are doing extraordinary things through God's strength in them.  The CRU is also run by H4 (Helping Hands Healing Hearts).  This ministry is beyond amazing.  I cannot say enough about it.  The hands and feet of Jesus, for sure.
Here's a video of the work being done through H4.  If you feel so inclined to support their efforts, you can give monthly — even as simply as purchasing two bags of rice each month to feed the children.  We will definitely be jumping on board in support as soon as we get home.  Sometimes it's hard to know what ministries/non-profits are reputable and really doing a good work.  Perhaps it helps to hear it from us who are seeing and experiencing it with our own eyes.
Tonight is Christine's farewell party.  Her friends from school, her volleyball teammates, her teachers, community members who support H4, and church family will be coming to wish her well.  I have been warned many times that it will be a tearful night.  I am excited to celebrate the sweetheart that she is and to have her friends send her off with a proper farewell, but I dread it for her.  I know it will be very bittersweet.
Shortly, we will head for breakfast at the home of a family here in Baguio that has loved Christine well.  The wife is Filipino (she works for H4) and the husband is American.  Christine has stayed with them for short stints to get out of the home a little during breaks from school.  She is close to them, so we look forward to a little time in their home.  Later this afternoon, we'll head to the store to purchase the last of the school supplies that the children need for the upcoming school year (crayons, water colors, pencils, scissors, etc).  What a joy it is to be able to provide for this need.  After that, JD may do a round of golf with Claire's (H4's director's) husband, Mark.  They are from Ireland and are such neat people.
We will be up at 3 AM tomorrow to leave for Manila by 4:00.  We have two appointments with ICAB (Intercountry Adoption Board), one at 10 and one at 12.  We will need to give ourselves a 6-hour window to make the trek back to Manila.  It's not that the distance is so far as it is the traffic.  I am amazed at the volume of cars on any one road at any given time — very much like China and other parts of the world.
Prayer request: Payton and Avery hit a wall last night.  The jet lag had set in hard.  They barely made it through dinner.  It's hard to sleep here because the home is full of energetic children and very happy roosters and dogs wake us starting at around 4 AM.  Prayer that the jet lag is coming to an end would be awesome!  Love to all!
July 2015: It's official!
It's official!  Christine is ours!  God is good all. the. time.  We are so very thankful and humbled at how He's carried us over the last year and a half — so, so many of you helped to bring Christine into our family.  Thank you from the bottom of our hearts!
And, thank you for your prayers.  Christine's doing well and Payton and Avery seem to have turned the corner with their jet lag.  Now, if JD and I could just sleep tonight.  I was awake at 3 AM today and JD about an hour later.  And I am a girl who likes my sleep.  Ugh.
It's been a long, but wonderful day.  We're sitting in our room back in Manilla after driving in hours and hours of traffic.  It's unrelenting.  Now, we're chilling and watching TV in our pajamas after ordering room service.   Just what families do when traveling.  🙂
With faster internet, I was finally able to upload photos.  I realized I didn't include the video in my last post.  Hoping to soon.  Videos are harder to upload.  Very time consuming and I don't seem to have a lot of that these days.
Here are some shots from our trip so far…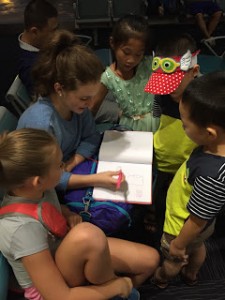 We met a darling family (with twin boys!) at the Guangzhou (China) airport.  The children were enthralled with Payton and Avery.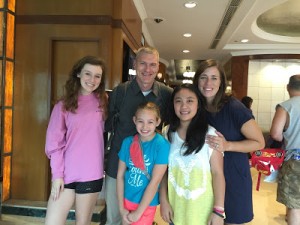 Our first photo with Christine!  This is our first day here in the Philippines.  We were getting ready to leave Manila for Baguio.
When we first arrived at the Helping Hands Healing Hearts Children's Home, the little children came running to greet us.  Hugging our legs and immediately wrapping their little arms around our necks!  (I'm have permission to post some group shots!).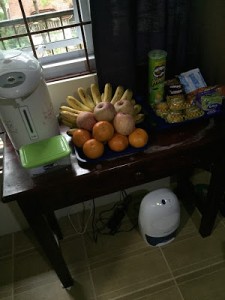 Fresh fruit, coffee, water, Pringles!, snacks, hot chocolate in our room.  What is this, the Ritz!?
We changed clothes and headed straight to Christine's church and loved it!  I have the best video to post.  Such an amazing experience.  They even called us up front and prayed a blessing over our family.  A moment we'll never forget.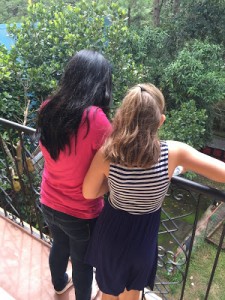 Sisters chatting overlooking the backyard.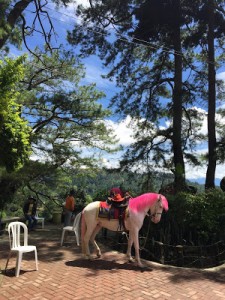 In Baguio, they color the white horses and sell rides.  This pink one was especially beautiful in front of the blue sky!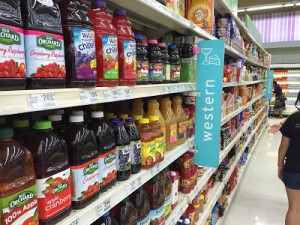 The 'Western' aisle.  Many familiar items from home.  It's funny because we have 'international foods' aisle in the U.S.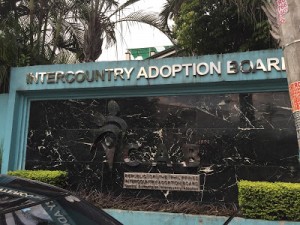 We made it!  It's ICAB!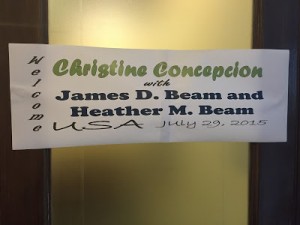 Cute little sign on the door.  Made us smile.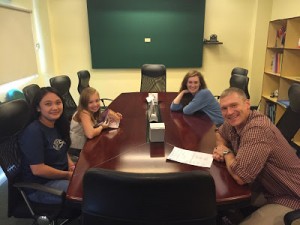 Waiting for the social worker.
30 minutes later and we were outta there!  So much to be grateful for!
Tomorrow morning, our first order of business is to Skype with those boys of ours!  I cannot wait!  Then, we'll check out of our hotel in Manilla and catch our plane to Palawan (Puerto Princessa) to meet our Compassion child, Lyka, on Friday.  I really can't believe this is happening.  I'll tell more about this part of our trip in my next post, but for now suffice it to say that I am so looking forward to it!
Love to all!  We covet your prayers!  You're the best!
We moved on from there to our day's plans: to the Butterfly Garden & Palawan Tribal Village, lunch at Baker's Hill, to the Crocodile Farm & Conservatory, and finally to the grocery store to get their family some groceries (this is protocol for a visit through Compassion).  We were happy to do it!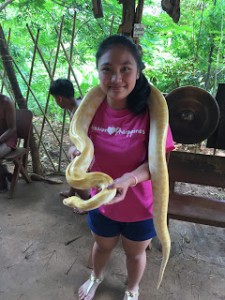 Brave!
August 2015
This sweet girl, our sweet girl, is so, so lovely.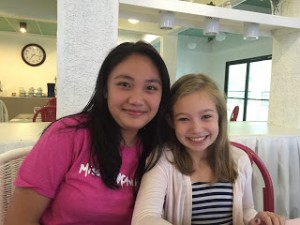 Everyday, we're getting to know her more and more.  And loving her more and more in the process.  Her sweet giggle, her honesty, her humor, her easy-going nature, her likes and dislikes.
She ordered some kind of dish that came out in an enormous bowl with a hugehunk of a bone plopped down in the middle of broth.  She wasn't amused from the start…
She's just awesome.
I can't wait for you all to meet her!
And, best of all, she too is excited to arrive home and meet our huge and amazingly supportive and loving community of family and friends!  She's doing so very well.
We flew from the province/island of Palawan (the city of Puerto Princesa) to Manila today and are headed out tomorrow night (Wednesday) to fly home overnight.  We arrive in on Thursday morning.  We're super excited!
August 2015: The Final Weekends in the Philippines
We spent our last weekend in the Philippines with JD's cousin, Holly, and her fiancé, Eric.  Holly's lived in the Philippines for a year and a half.  She came here after the typhoon in Tacloban.  She and Eric work for Catholic Relief Services.
When she heard we were adopting Christine she had just requested a transfer from Bangladesh to Tacloban.  We were excited even then to see each other 'one day' when we came to get Christine.  It was so cool that our plans from a year a half prior were actually happening.
Here's the cool room we got at the B&B we stayed at.  Summer camp, anyone?!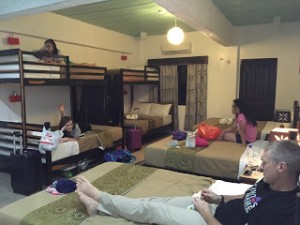 Yes, there are five doubles and two twins!  We all had our own bed!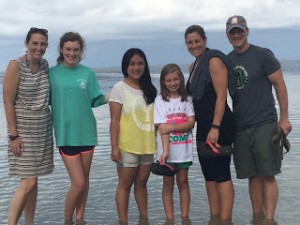 We walked down a dirt/muddy road about a mile to the nearest beach.  Locals live on the water and had fishing nets out everywhere.  Eric said he had to show us some of the more beautiful beaches in Palawan.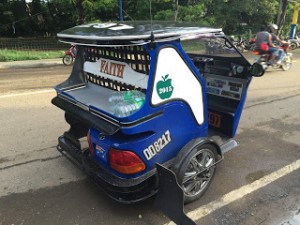 We rode in 'tricycles' or 'trikes'.  JD was all about it!  He loved riding on a trike!  It's basically a motorcycle with a cart attached.  Part car-part bike.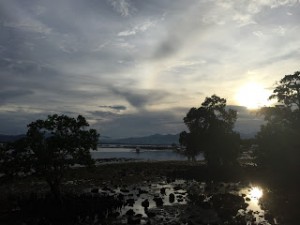 The views from our table…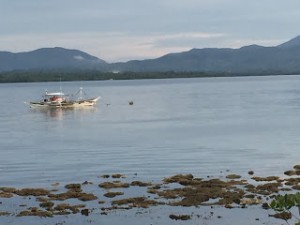 The next day, we decided to do the Honda Bay Island Hopping Tour.  It was so helpful to have Eric with us.  He was one step ahead of us throughout the weekend talking with locals and finding the best deals to sightsee.  There are thousands (!) of islands in the Philippines — I think it's around 7,000! — so exploring them could be a full time job!  Eric and Holly have traveled a lot around the country, but some of what they were doing with us in Palawan was their first time.  Eric secured a boat and we headed out to visit the little islands.  Renting this boat for the day (with two captains/guides) cost us just 30 bucks!  I know!  Crazy.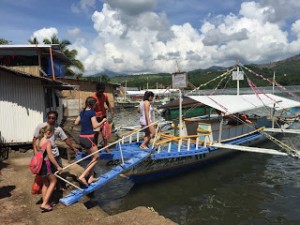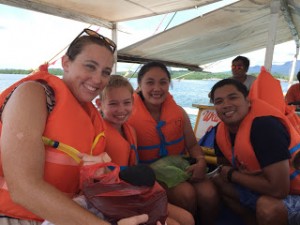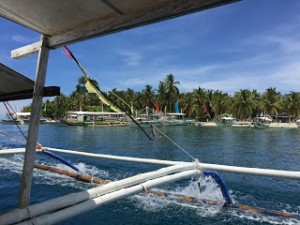 The weather was sublime!
Even big girls get tuckered out and need to lean on their aunts for a quick rest.  🙂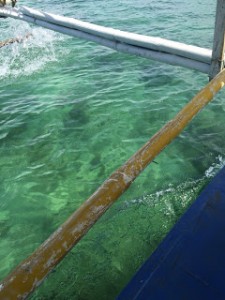 The water was clear and such a beautiful green.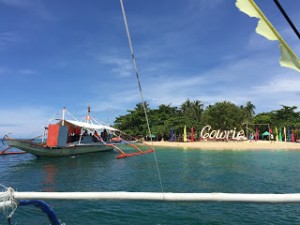 Our last island and we were headed back to port so Holly & Eric could catch their flight home.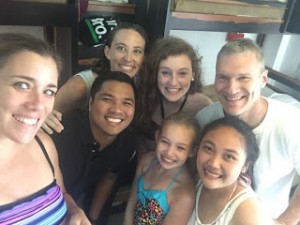 And of course a selfie was required to end our visit!
Read More