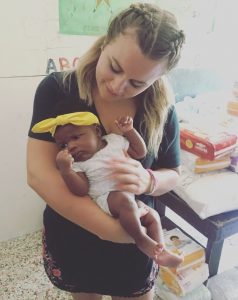 The past few days I have had the opportunity to spend a lot of one on one with several children, but one child in particular is a 2 month old baby. Yes, 2 months old. Her story is incredibly devastating but unfortunately that is most of their stories. As I held her the other day and rocked her to sleep I couldn't help but to look into her eyes and wonder about her life before she arrived at the orphanage. So small and completely dependent on others and now completely dependent on strangers. However, all of these children become dependent on strangers.
I try my best when I am here to take as many kids aside as I can and spend one on one time with them whether that be blowing bubbles, coloring, rocking on the porch or singing songs. Even if I won't be here long term I think it is so important for these children to have time to feel important, loved and special.
Today, I taught one of the toddlers how to blow bubbles and the excitement on her face left me without words. Prior to this she was pretty expressionless and I really could not seem to figure her out. But this was a totally new experience for her and she was having the time of her life. Her little dimples, white teeth, and bright eyes lit up the room with every bubble she blew. I honestly could have sat in the office with her for hours doing this because it was truly priceless.
I think we all strive to find our calling, to fulfill our purpose and to truly discover what our passion is. Sometimes it takes a while to find your way and discover where you fit in this massive world though. But when I am here, here in Haiti, I know this is where I belong.
– Hilary Clemons, Haiti Adoption Specialist