The purpose of the SAE program is to facilitate high quality educational environments for international exchange students that promote and enhance the interchange of scholastic education, knowledge, and culture between students of other countries and the United States. We provide host family finding services for students from abroad and schools in the United States!
The SAE program hopes to:
Build a mutual understanding between people of the United States and people of other countries in the world.
To assist exchange students in global education and cultural growth.
To provide exchange students with the opportunity to explore their independence and improve their English skills.
To foster the exchange of ideas between people of the United States and others of the world.
To help build goodwill and peace in the world through a solid foundation knowledge and understanding between cultures

Homestay Assistance to Schools, International Students, and Host Families
The goal of the SAE Homestay Programs is to assist international students in identifying quality screened host families to stay with while they are studying in the United States. Many students from abroad send applications, only to find out they cannot attend school without a local address and guardian. Student Ambassador Exchange will help students find a host family excited for the school year and the cultural experiences international students bring!
Student Ambassador Exchange also assists schools who would like to have more international students on their campuses but who do not offer host family finding services to their applicants. We can assist students in finding a local host family in school's area that is carefully screened and excited to have an international student in their home!
Why Become a Host Family
As a host family you are given an opportunity to share the wonderful experience of learning about your host student's culture and sharing the knowledge of your own.  Families that want to host exchange students are people with an interest in sharing the experience of living with someone with a different culture.  They are also delighted to share with the students their own lifestyle in the United States.
Hosting exchange students is a wonderful way to add culture and richness to your life. You can teach your children about other traditions and ways of living outside the United States and hosting a foreign student is a wonderful way to achieve it.
By hosting an exchange student you will learn firsthand the exciting traditions and ancient customs from a citizen of the country.  It is also a special time for the student to witness American culture and experience what it is like being the part of an American family.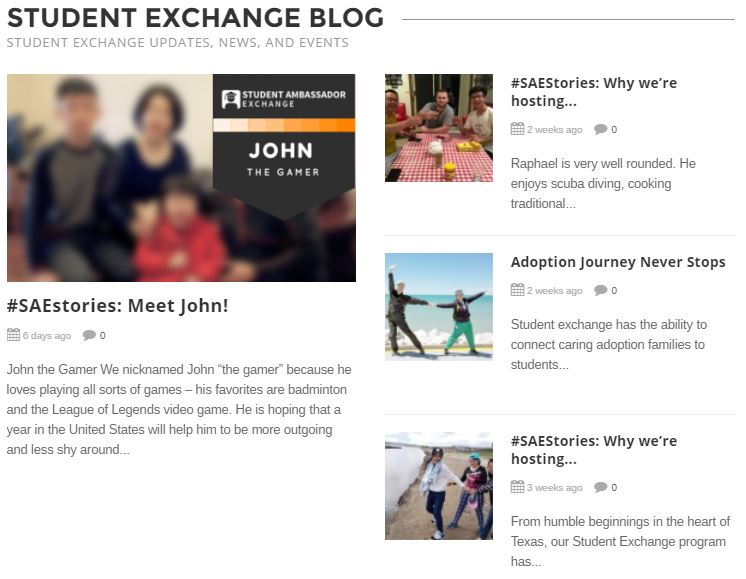 Support for Host Families
Each Host Family will have the support of a Program Coordinator with Student Ambassador Exchange. We are here to support you through the ups and downs of the hosting experience!
Program Coordinators will communicate with you and your student individually at least once a month. If an issue arises for your family or student, your Coordinator will support you to resolve this issue.
You and your student will receive a number of trainings throughout the Homestay Program experience. These trainings, scheduled at critical junctures of the program, will help to provide guidance and support to both you and your student!
Host Family Requirements
Potential Host Families for our Student Ambassadors will need to complete the following:
An SAE Host Family Application
A federal and state background check
A home safety visit
Two letters of reference
An interview with a Program Coordinator
Provide three daily meals to the exchange student
A separate, which may be in a shared bedroom with a host sibling of similar age and same gender
Use of a laundry machine and facilities
A bathroom, which may be shared
Local transportation (students are not allowed to drive while in the program) and transportation to and from school if local transportation is unavailable
Access to telephone and internet (wifi) to contact the local Program Coordinator and the student's family at least once a week
SAE Private School Host Families are provided with a small stipend for hosting a student. This is for expenses such as food, travel, and other cost items while the student is in your home. Students will provide their own leisure and spending money.
How to Apply
If you and your family are ready to host a foreign exchange student and provide the opportunity of a lifetime, please contact us at 512-323-9595 ext. 3062 or by email at cayce@childrenofallnations.com